So, here's the skinny. Ozzer drops the line... "hey we should do this". By "this", he meant the 24 hours of adrenalin endurance race at Idyllwild, CA. He continues "it's easy, we'll just do the 5 man relay. If we ride at a chill pace, we can do 3 laps each without much effort. It's not like we'll be riding ALL 24 hours or anything that crazy. C'mon guys, it'll be fun!"
Well, he planted the seed and the seed took root. We started training, planning, and scheduling the time off. Oh yea, did I forget to mention... Ozzer brought it up with only
14 DAYS NOTICE TILL RACE DAY!
I don't know what's worse, him bringing it up on short notice or us agreeing to do it.
Riders for Team Full Body Cramp:
Ozzer
Sluck
Arkayne
PRipper
Me
Here's a brief description of the course.
Start/Finish Elevation: 4400ft
Highest Point 5200ft
Total Climbing: 1394ft
Each Lap: 9.42miles
Terrain: hardpack & loose single track, fire road, sandy fire roads, techy climb, fast flowy and loose decents
The race started at high noon with a 1/8th mile sprint to the bikes. Seriously WTF.... this is a bike race, not a run over the short Filipino guy race. Being the photo whore I am, I was up front so Ozzer, Sluck, Arkayne, PcMkr, and PRipper cheered on. After they meyley of the start and the utter cluster fcvk of trying to get your bike off the rack at the same time as 185 other people, the race was on.
Knowing my total lack of conditioning, I let as many riders pass me before the entrance to the trailhead. Apparently I was still ahead of quite a few people because I found myself being trailed by alot of other riders (most of which were more XC hardcore than me).
There was a long train on the first part of the initial ascent (1.5 miles, 600ft). The pack got weeded out pretty quick as this single track climb had many opportunites to pass. Needless to say at the end of the climb (checkpoint 1), I was pretty far back in the pack... but not dead last.
After checkpoint 1, there is a fast flowy descent into a huge meadow. There are a couple G-outs, roots, ruts, and maybe 2-3 rocks. One of the more notable features of this decent is a gynormous G-out with a ladder in the middle. If you hit the g-out just right, you could launch out and get some air. I ended up catching 4 guys that passed me on the climb. Unfortunately, there is only 1 real place to pass clean. What was great though was when they heard the chain slap on my hardtail, they pulled over without any prodding or coaxing on my part.
The ride through the meadow was very scenic. It was a gradual spin through a faux flat, semi-loose and often sandy double track, ending in a short climb over hardpac to checkpoint 2. During which, the 4 riders I passed on the decent passed me AGAIN + 2 other riders. That meadow was one GIANT energy suck. I was soooo tired by the time I hit checkpoint 2. You'd think the climb would end after the checkpoint, but nooooo, there's still 100yards worth of fire road climbing. After some FLAT fire road, it was onto single track and the second descent.
This is where it got super fun for me. The descent is a flowy single track, techy at times, but just plain fast. I let go of the brakes and off I went. I caught 6 riders pretty quick. Made me feel better about them passing me earlier. 4 of them heard me coming and pulled over, I had to announce "I'm rollin fast" to one, and the other got "on your left". The decent flattens out and gets sandy with a little bridge crossing, a small uphill, and then a WIDE open 2 lane fire road that pointed sorta down. Yup, it was 2 lanes wide. This was pass city as I passed 3 riders. I was wondering why I could hear their brakes squeal while on a wide open road... I guess I'll never know cuz there was no way in hell I was gonna slow down. All I said was on your left (or right if the case demanded). The fire road ended with a hard left turn with a giant burm, aside from the braking bumps on the turn
, the turn was butter. Then came the death climb.
I thought the first climb sucked, well, this one sucked even more. I was only able to ride about 20% of it, the rest was hike a bike. I was happy to see that I wasn't the only one hiking. This was followed by an unjulating sandy single track that led to a short climb and a big cluster of rocks simply labled "Rock Climb". There were 3 lines, Left aka wrong, center, and huck city. I went center but stalled.
After some more climbing, on came the third descent. It was very similar to the second but not as long. There were a few more rocks
compared to the second descent. Also quite a few spots to launch and some tricky high speed line choosing.
After the descent, there is about a mile of sandy double/single track that leads to a paved road. Here you can big ring it for about half a mile before hitting some double track to the final climb affectionally named "The DEMORALIZER". It was aptly named as its timing was like a smack to the nuts. What sick bastard puts a steep climb 0.42 miles from the finish line? Once at the top, the final descent begins. A tight single track with plenty of speed and a whoops section. After crossing a bridge over Hurkey Creek, I made my way between the tape toward the finish line.
Lap 2 highlights:
- hitting the third decent after sundown without turning on my lights.
Lap 3 highlights:
- riding at night in below freezing temps (16deg at checkpoint 2)
- passing 3 riders on the first decent
- passing 2 riders on the second decent
- my bottle of cytomax turning into a slurpee
Lap 4 highlights:
- really let loose on all decents and only had to pass 1 rider
- taking my time and enjoying the view
- the satisfaction of finishing what I started ( I had the 1st and last lap)
Onto the pics...
Here's me getting rid of the butterflys with a few jabs.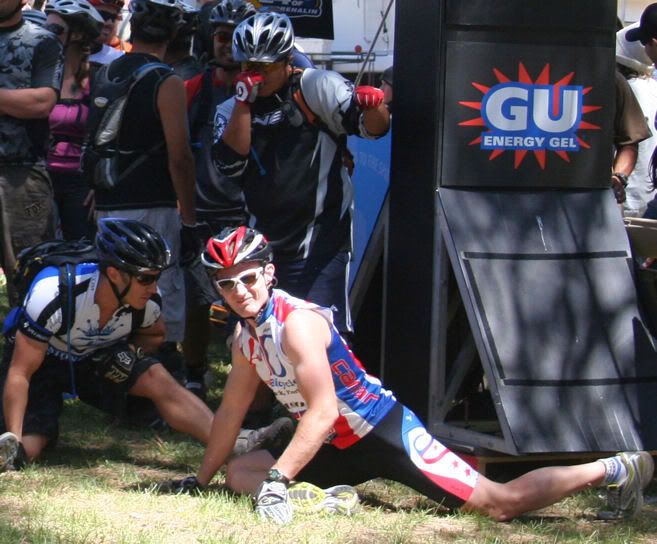 When they said go, I said Sh!t, and off I went.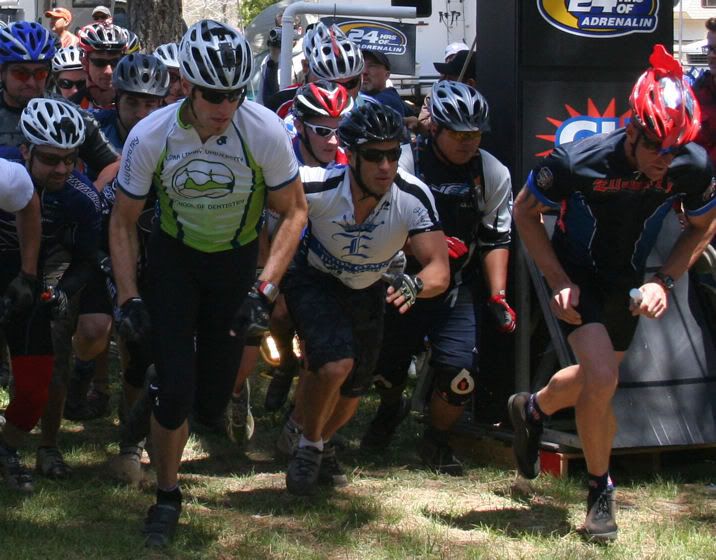 1/8th of mile at 4400ft seemed alot longer than 1/8th at sea level.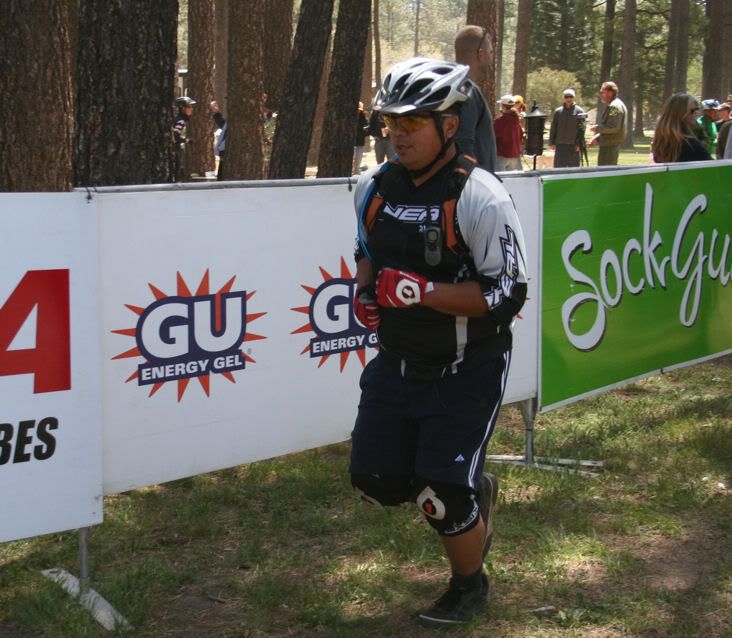 End of my first lap. I was so tired. You can take the DH'r out of the race, but you can't take away his 661 EVO knee guards.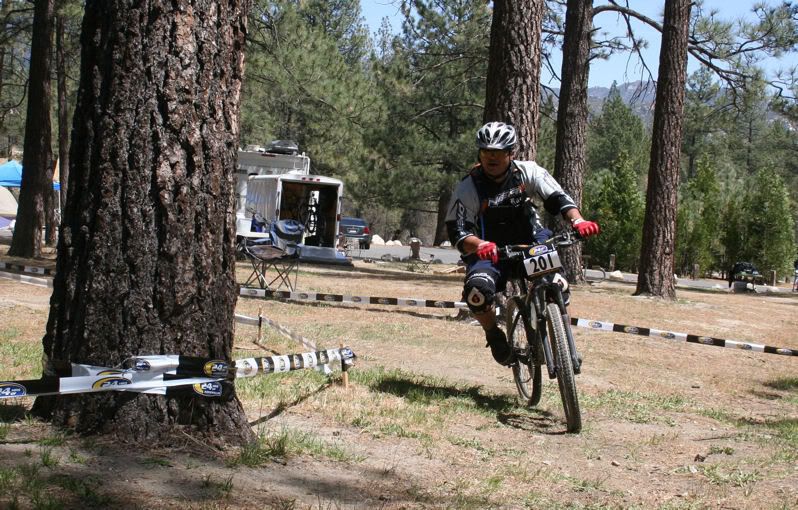 The Sluck taking off on his first lap.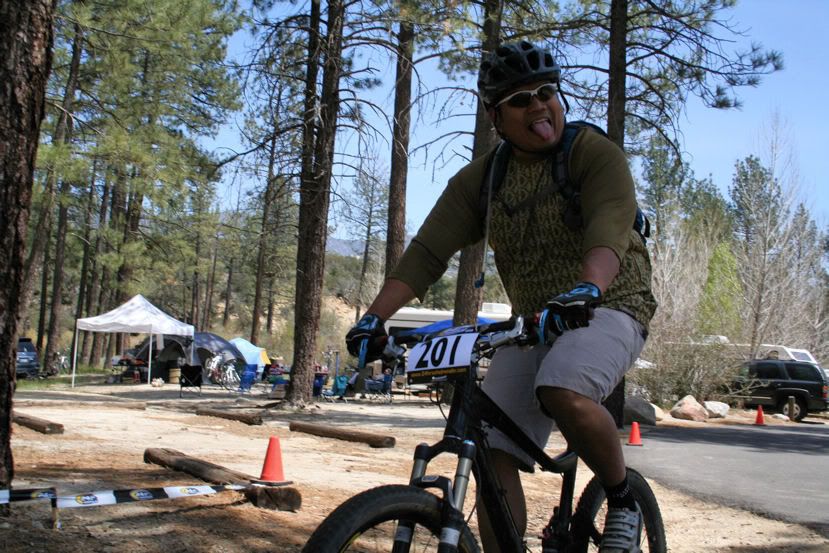 The sluck AFTER his first lap.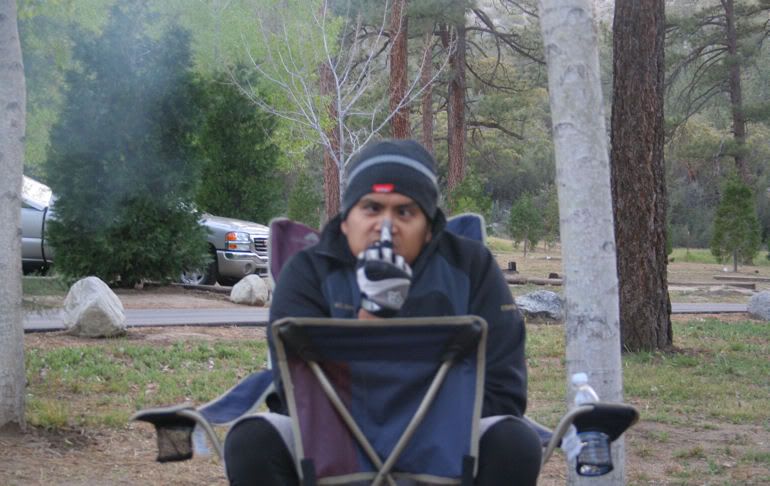 PRipper aka John finishing up his first lap. (he was entirely too happy on all his laps, especially his last)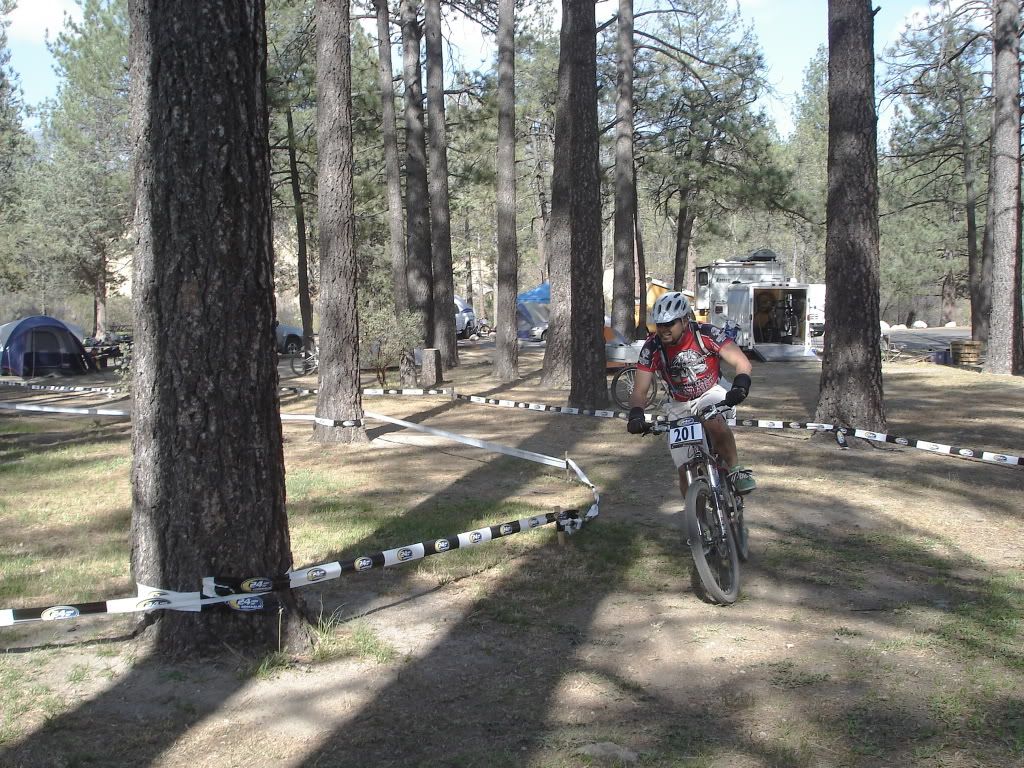 Arkayne finishing his first lap. He rode his SX Trail 1x9 style (36t ring with an LG-1 and a road cassette)... friggin monster!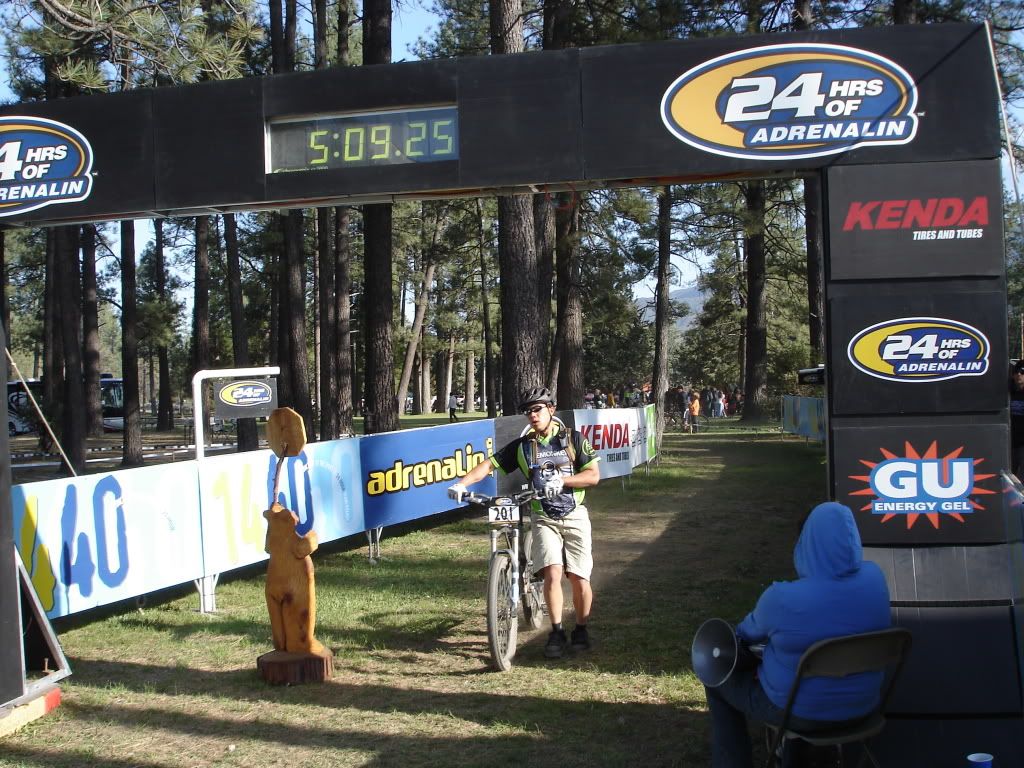 Ozzer at the end of his first lap. He tried to beat Arkayne's time but fell short by 2 minutes. His exact words to me as he passed the baton.... "dood, i'm tired"
About to take off on my 2nd lap. I distinctly remember saying to myself.. WTF am I doing this for again?
Even though I was the slowest of our bunch, my second lap was identical to my first. Consistency... check!
The Sluck after his second lap. You can just see the energy and vibrance in his posture.
Sometime during the night. While Sluck and our mascot Chief looked for something to eat,
I found comfort in the contents of an MRE.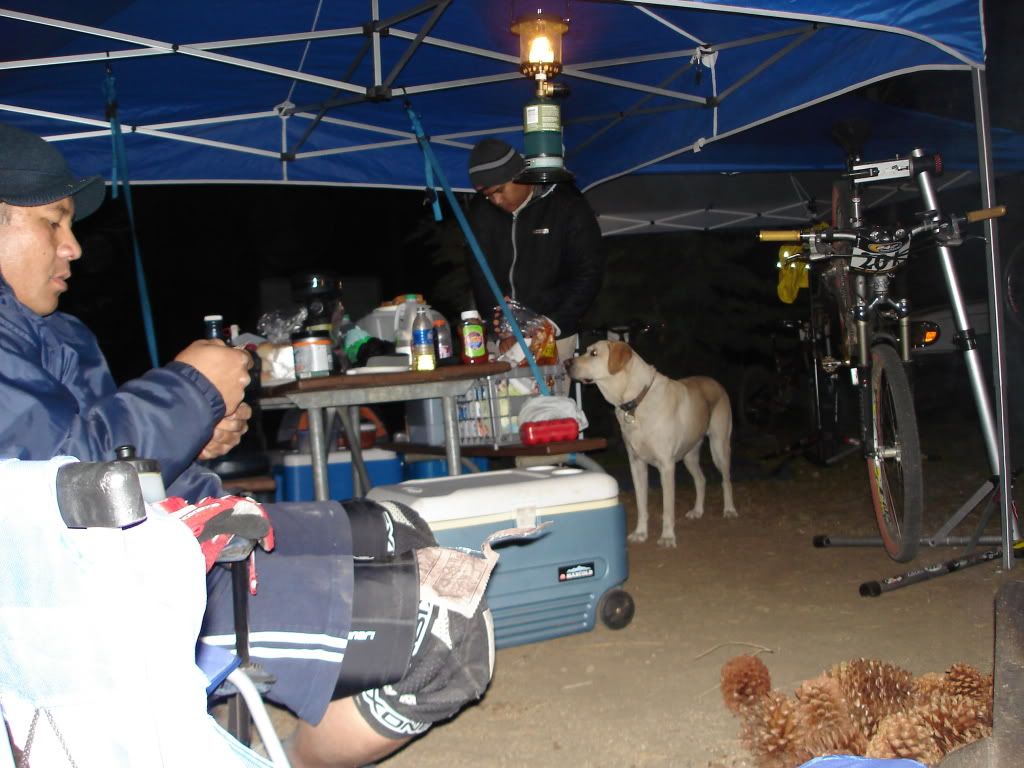 Proof that it got to 27 degrees at base camp. That's ice on the bed liner.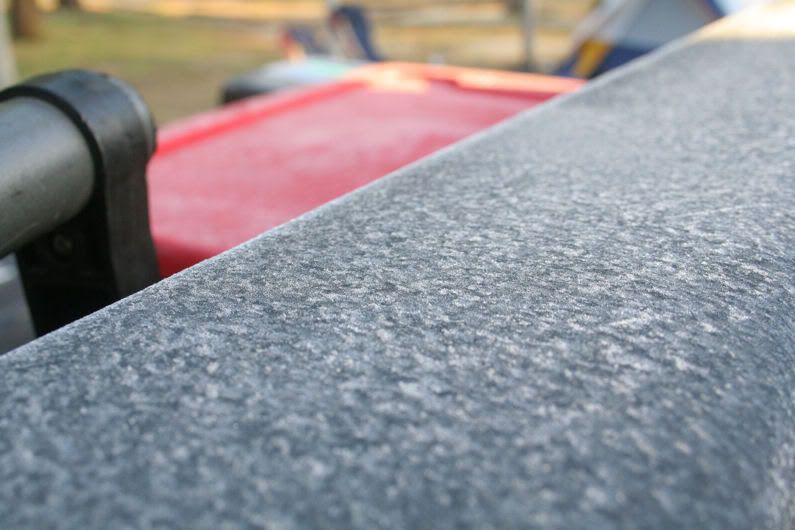 The Sluck after his 3rd lap.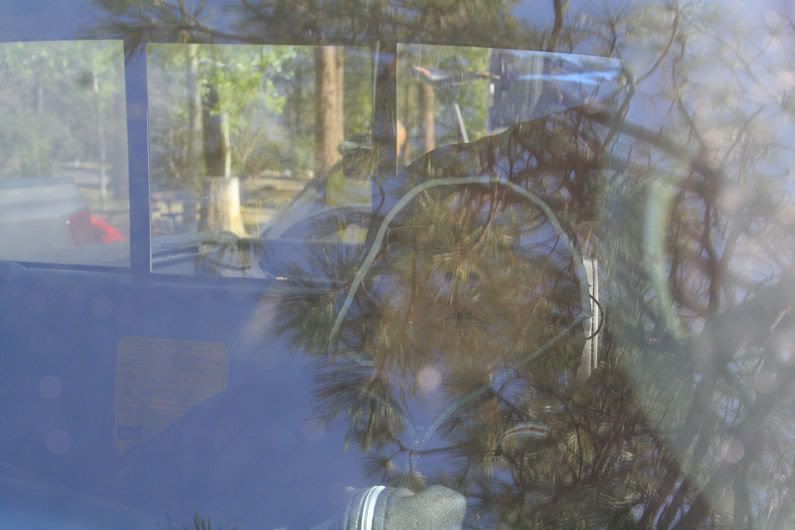 PRipper sleeping bivy style and being warmer than everyone else.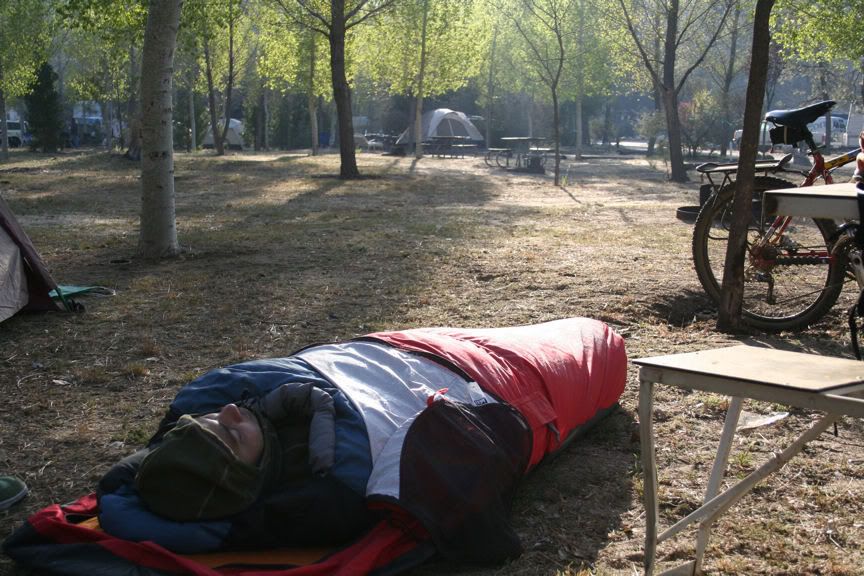 Proof that I finished.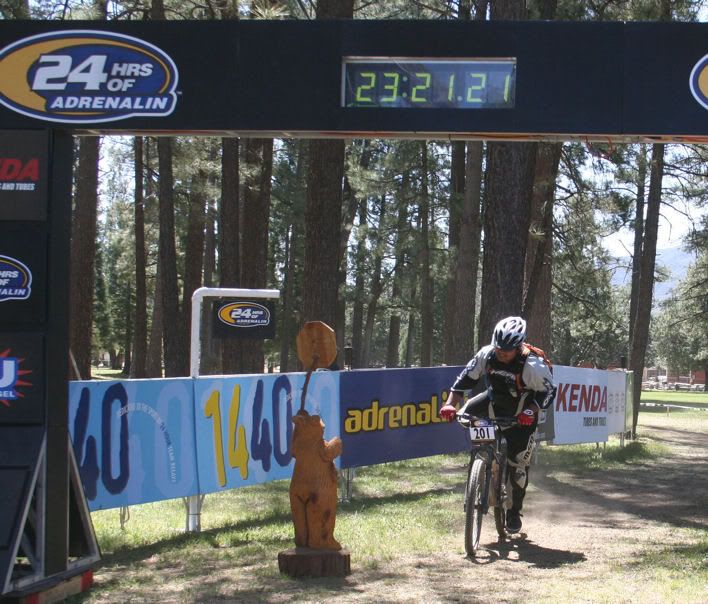 Last edited: