Several of us were doing the pats Peak race as 2 Man 12 Hr teams , Mogalskr , Dalton Doug and My self. My parted was Mert a Guy who lives nerarby and who I ride with a bit.
Here are steeds are ready to go.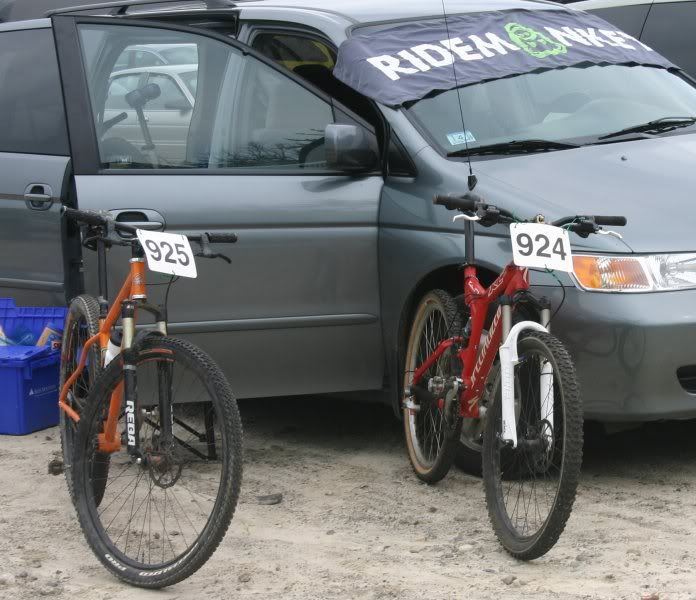 By the way he rides a 29er Single Speed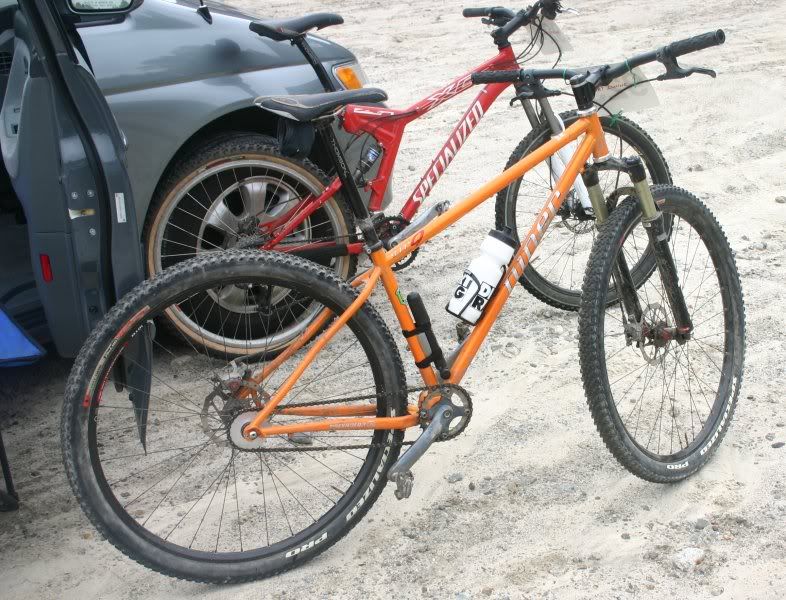 it was quite an event that they were putting on , first there was a DH race ,
we caught a little bit of the end of it .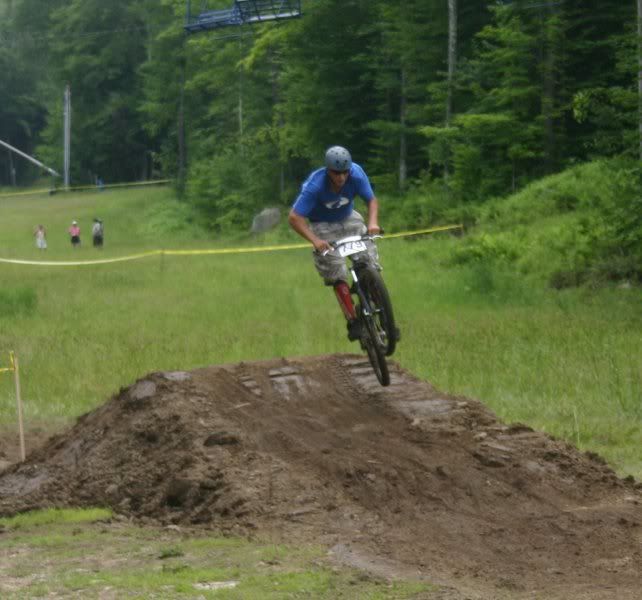 Ut oh!!!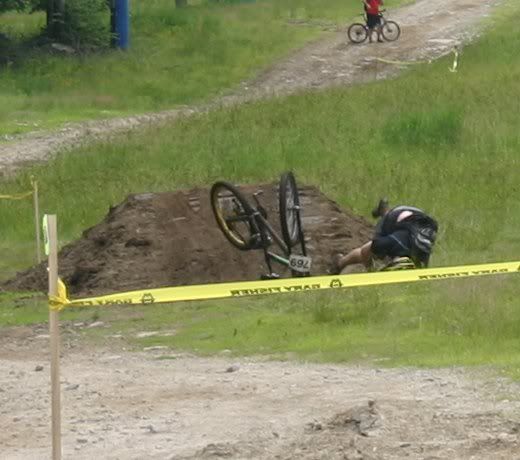 and then after the DH race came the XC race , there was a 6 Hr , 12 Hr and 24 Hr options to this race .
her eis the course , 5 Miles Long , 847 Feet of climbing per lap , Did I mention Mert was doing this on a Single Speed ? ( there were at least 3 other single speeders )
As we line up for the Start, here are Mogalskier and Dalton Doug, ( OK there backs )
The line up to Run , I'm in there ! Was not that Bad of a Run, only about 75 Yards across a ski trail grab the bikes and go.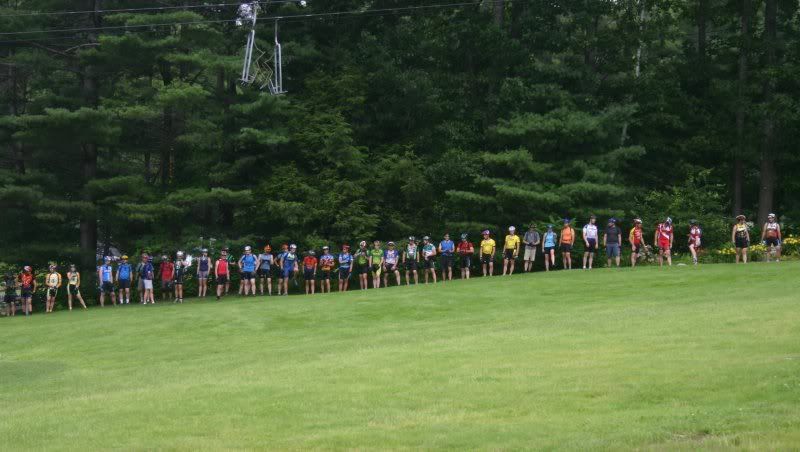 now beinga Short course after we both did a lap we decided to try Double laps .
it was a Very humid day , it ( thankfully ) did not get as hot as predicted , but it was still plenty hot.
here I am coming through on My laps
Mert coming through on one of his laps .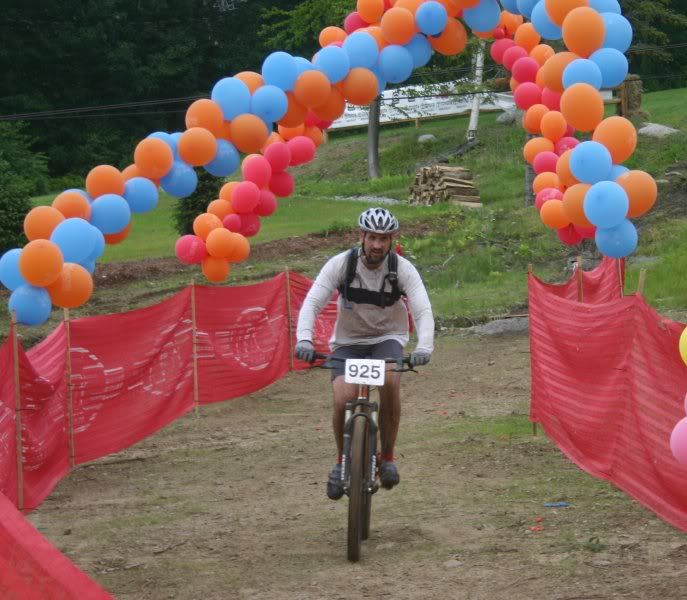 as you can see looking at the map this course zig zags up the ski Hill
Mert going across one way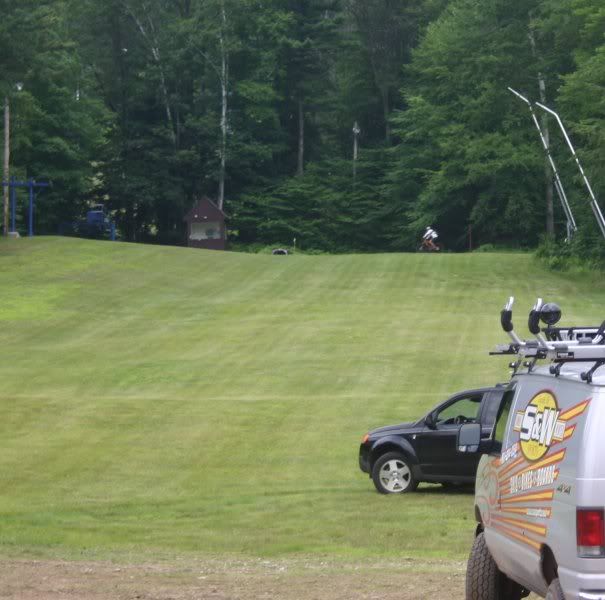 Now going the other way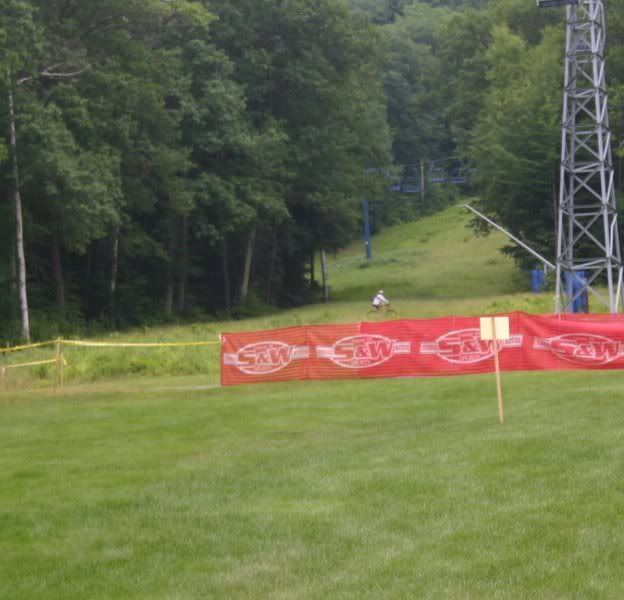 one thing that was bad , was the MUD !! there was tones of it ! something about record rainfalls . ( random rider )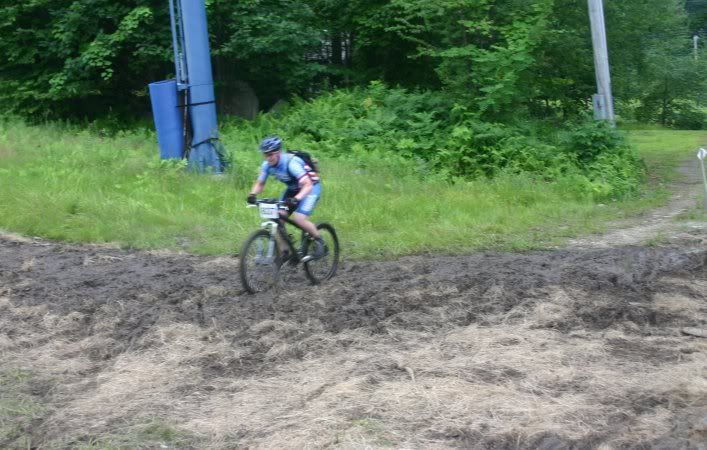 and they had a Band Playing for quite a While . they were an OK cover Band , But I rather enjoyed hearing them Play as I rode . and you could hear them on almost the entire course.
DaltonDoug going out to Kick some ass!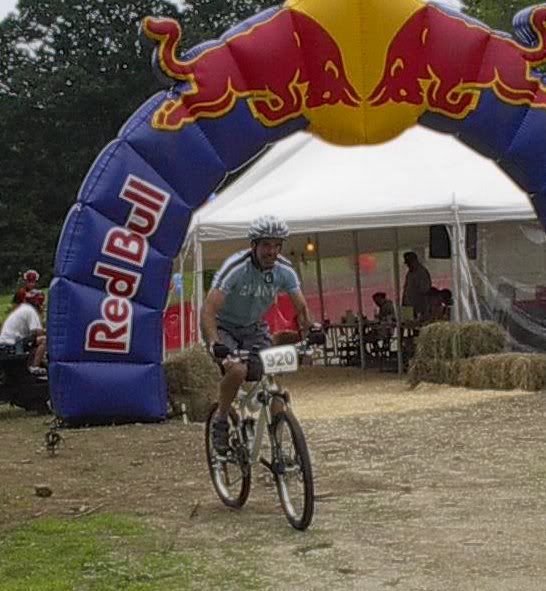 During my 4th lap things started to get interesting. halfway through the course I ran out of Brake pads in the rear. so it made for some interesting decents ( fast too! , helped with the time on that lap) , so After my 4th Lap I switched Bikes. I always Bring 2.
and And after Mert did his 4th lap when He got off , he said he probably would not be ready to do anothe lap when I got back
Well I was feeling pretty good , it was going to be my first night lap , things had cooled off, so I said if he was there when I got back, I would just do a double. well the rest of lap went well, and when I got back Mert was there , but he said He was not ready yet , so I Felt good and went out to do another lap .
I got out there and I had just come out of the woods onto the ski hill when I can see a Bike in the middle of the trail and a Body laying down . I yell to him if he is OK, and he claims he is , and As I got to him, it was Douglas. he was just sitting on the ground tatally spent. He said he would be OK and I continued on, and he got up and started to follow me .
Here he is Behind me not far from where I found him
I was doing pretty good , and had just started the backsinde downhill single track! ( really really Fun!! , made all the climbing almost worth it ) and As I started , I hear that horrible noise of Sticks and Derailer in spokes !!!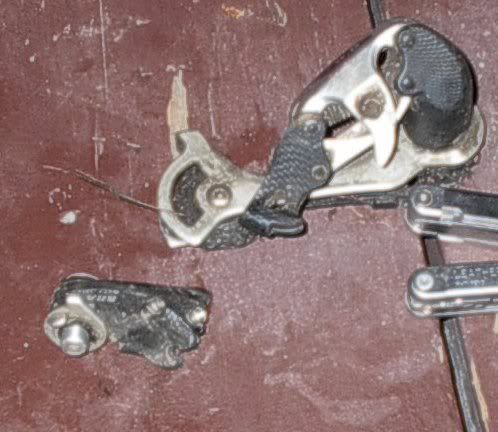 Yup it was torn clean off, so I so I coasted down the hill and walked up the 2 smaller one back. and made it to the Exchange tent. But Douglas Never caught me and was still out . I was a little worried about him. but he came in about 5 minutes after me , and basically collasped .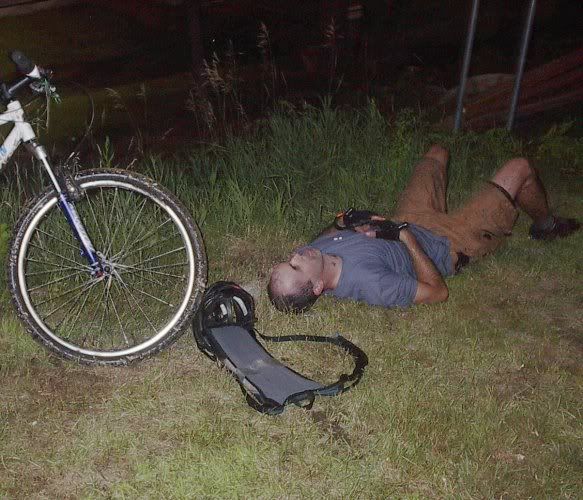 and riding in and out of the Lights on the Ski Hillwas some what sureal , you come out of the woods in to brightly lit trails was very cool.
here is some what of how they looked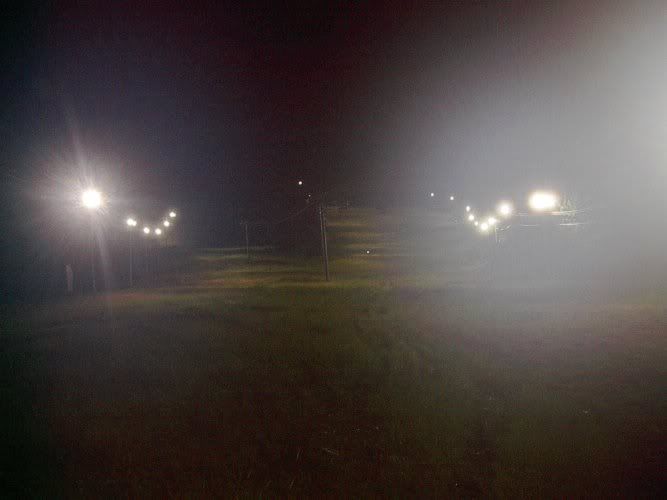 well Now Mert was out ther e, but We still had well over 2 hours to go, so It ment I would need to go aout again. I had a Spare LX derailer , ( but no cable ) so I put it on and tried to Put it in is smallest gear and Just ride it as a 3 speed . hen Mert came in I went back out, and for the Most part it worked except it was slowly drifting to a larger and larger gear , and then add teh Mud and My drive train was a mess. But I got through the lap with a Decent Time , with enough time for Mert to Get out again.
Here comes Whiley and Dalton Doug in to finish Up there race . ! They were leading for most of it, but they finished in 2nd Place!!!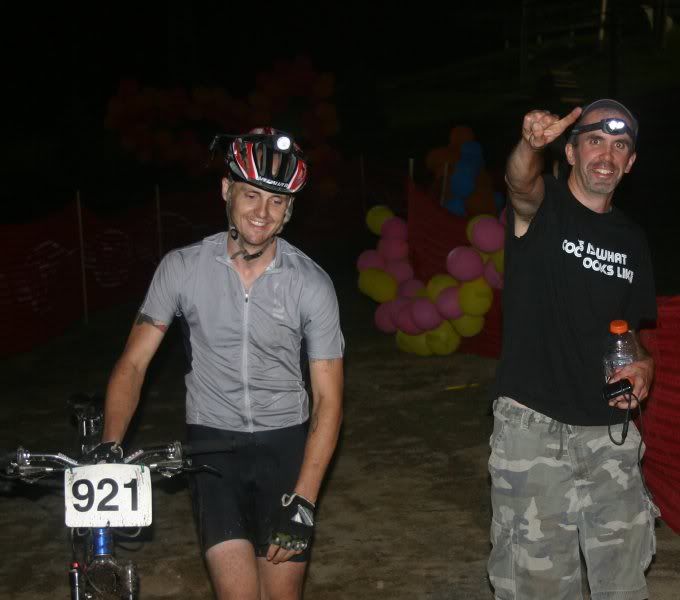 here Comes Mert finishing off our race !
here Mert is Checking in for the Final time !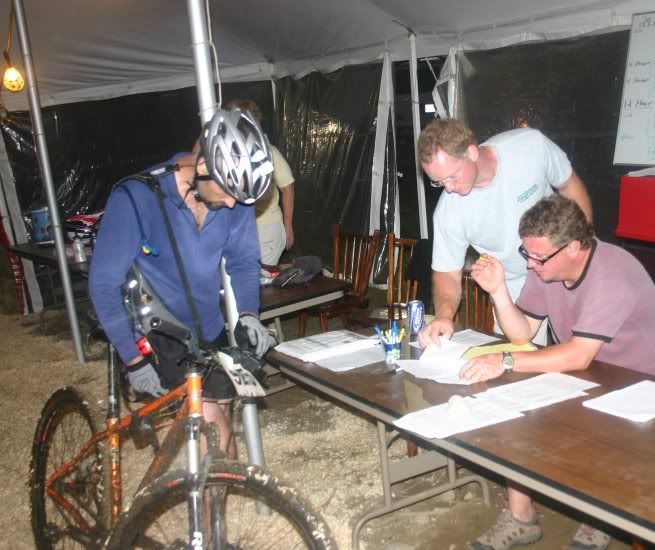 We were very Happy with Our finished 13 laps good enough for 4th Place. I had 7 laps , Mert had 6 . We were very happy with Our results!!!
Wooo Hooo, a Good time was Had!!! Great event , Great Venue I Highly reccomend it.
~~ Team : 2 Slow Daddy's ~~~