Ok, this is a crossover post from my other two-wheeled endeavors that was posted at
http://www.advrider.com/forums/showthread.php?t=412282
But I've been thinking lots about the carryover to mtb as not only have I had MUCH harder falls, but I have pedalled this very trail many a time and it seems like a good story to share if it helps even one other rider.
So please adjust any pre-set prejudices and approach this from a rider's point of view...I was pedalling long before I was twisting a throttle and this was a first gear, slow speed fall (and you will see I'm even sporting Ridemonkey colors in the pics!). I know I am am at least second-guessing any future downhilling with anything less than a DOT & SNELL approved helmet. Granted, YMMV.
THE EVENT
A local club hosted an enduro trials in one of our state forests that is legal for motorized use in some areas.
Man, this was a total blast of a format. I am NOT a fast rider, but I love to test my technical skills whether it be on the mountain bike or now the dirt bike (although given that I've been riding since only the end of March the latter skillz still have a loooooooooong way to go towards improvement).
Basically you were required to be on a full-sized bike (i.e., no trials bikes) and there were five sections for judging (one...which would be my ultimate downfall...uh, literally!...that was a twofer hill climb where I never figured out the dividing line and never matched my beginner's luck of zeroing the first lap...for those unfamiliar with the format it's a golfish scoring system where the lowest score wins and a penalty for each dab and a "5" for a crash) with some sweet trail riding in between each of them.
And major props to KPTR for again treating me to a fantastic event.
THE BIKE
Here was my weapon of choice for the day (picture as of today - no bikes were harmed in this endeavor - just the Grlll):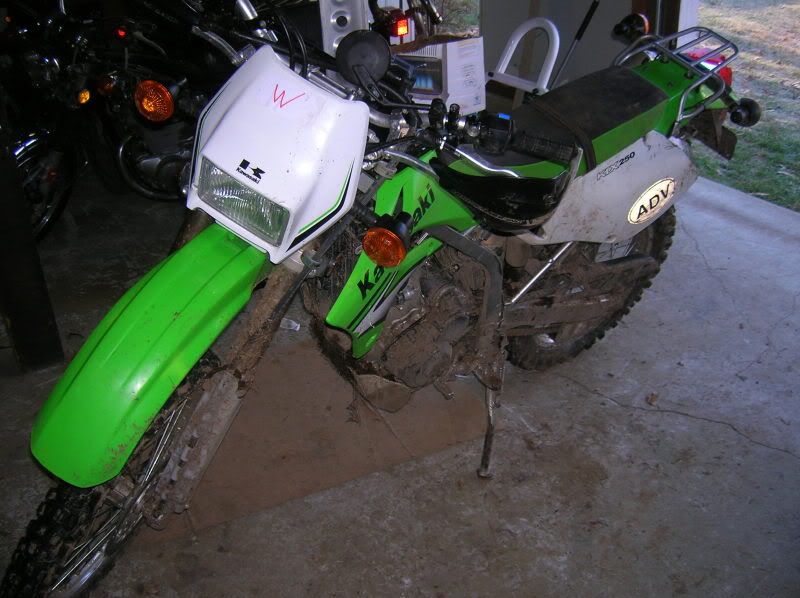 Kamala has spoiled me rotten with the mods to my '07 KLX (among other things ) and I have to say that I freaking LOVE this bike.
THE WEATHER CULPRIT
Ok, so I've lived in MA since September of 1995 so I should know better, but I actually believed the forecast. The precip was supposed to hold off for most of the day and I expected chilly and some ice/mud conditions for the event but not much different from when I had been out to Foxy the previous weekend for a re-acquaintance ride of the area on the mtb. Alas, that was a true lapse in faith. I was signed up in the Woodsrider class (aka "got outta my way you noob!!!!") and we were to do four laps. By the end of my second go-round, the sleet was steadily falling.
Sliding out in a couple of the trail sections was my first clue that this was a whole new venue now, but I did my best to pick lines carefully and modulate throtte, clutch, and brake use. I got to the last two (linked) trials sections and set up to wait for my entry. At that point I was 50/50 on this section, having cleaned both parts on my first lap but blowing the second. I was hoping to better that record and then it was my signal to start. Into the first turn, start the climb, hit the first section of rocks and I'm just about to clear that when whammo...out goes the rear wheel and I'm shot off the back of the bike. Hey, who ordered up this frozen layer of leaves here???? Ok, that wasn't my exact thoughts at the moment as I landed and the back of my head bounced off the rocks hard enough to make me instantly dizzy and naseous. But it did occur to me later.
In any case, the scorer helped me right my bike and I finished the lap, saw Kamala at the scoring table, and (ok, in retrospect, foolishly) said I'm fine and I want to complete my last lap. The dizzies and the slick terrain saw me hit the ground several more times but with I don't think much more damage than the effort of having the pick the bike back up again. Finished the last lap, collected my third place trophy (helps to only have three in your class...heck, I'd have claimed first if there'd been a Women's category ), and drove home with Kamala there to help unload the bike. Once again, my hero.
Monday had a wickedly important meeting for work (which included a presentation and 135 miles of windshield time) and then back at the office for 7:30 AM on Tuesday.
Yeah, I felt like crap from the moment I whacked my head but this isn't a sport where you don't expect some bumps and bruises. I gave it until mid-day yesterday but just really didn't feel right (hard to explain more than that) and seemed to be in more pain than I would have expected. Called the doc, they were booked for the week and referred me to the emergency room.
THE RESULT
Apparently when you use the words "dirt bike" and "fell backwards down a hill" and "whacked my head on rocks" you get the first class ticket through triage. I was collared and on a backboard before they even finished my intake information. Was stoked to finally get the cervical x-rays done and get cleared enough to come off the backboard and be placed out of the hard collar in a Miami-J and thought I would soon be discharged with instructions to wear the collar x 2 weeks and then if still in pain see a neuro to determine if further diagnostics were required.
So imagine my surprise (well, that wasn't exactly my reaction...) when the resident came over with the attending doc to tell me they had found a small bleed in my brain with the CT scan of the head. Better yet, I was going to get to take a little ambulance ride to the other campus of UMASS because I was a trauma patient. So first call was to Kamala, who valiantly rushed off to dog care at my house before meeting me at the University Campus. Second to the boss saying that, uh, I probably won't be in tomorrow AM...
As soon as I knew I wouldn't be going home under my own power they started loading me with painkillers. I was shocked that not only the Percocet but multiple doses of Morphine were doing next to nothing to ease the pain (which had worsened considerably after 4.5 hours in a hard collar on a backboard and during and after also being poked, prodded, and placed in unnatural positions by doctors, radiology techs, etc). Bummer, would have been great to be looped out on all those drugs, eh?
Well, the explanation for my additional discomfort was another bit of a freakout moment. The trauma team felt pretty good about my neurological status after a full exam and interview but wanted CT scans of my whole spine. Bonus! I have a compression fracture at T6. And as you can see from the "representative" photo I've included, I am sporting some lovely new colorful areas on various parts of my body.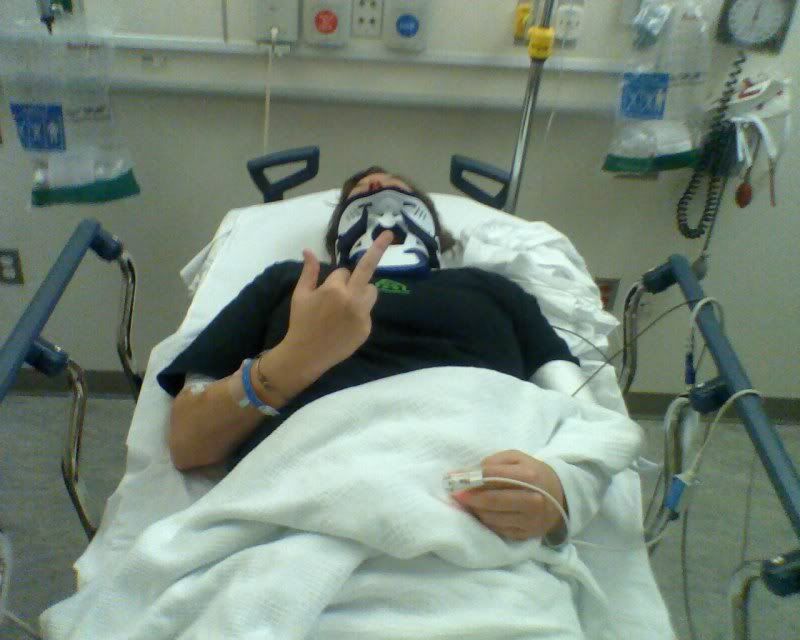 So the good news is that despite a small bleed in the brain, a non-displaced compression fracture at T6, and multiple contusions/sprains/strains, I was allowed home free of the Miami-J cervical collar and even a back brace. Sent with pain meds and instructions to take it easy and follow up with the spine surgeon in a week for repeat diagnostics to make sure the fracture is still stable. The bleed in the brain is expected to be re-absorbed without any further intervention. Oh and for the ATGATT questions, I was in full moto gear (minus a neck brace such as a Leatt) to include a full face helmet, Dainese safety jacket, MSR knee guards, O'Neal moto-x boots (Thor moto-x pants and Fox jersey but not as if they added anything other than some abrasion protection with the logos on the pants).
__________________
2007 KLX 250s
2008 Ulysses XB12X (the faster black one)