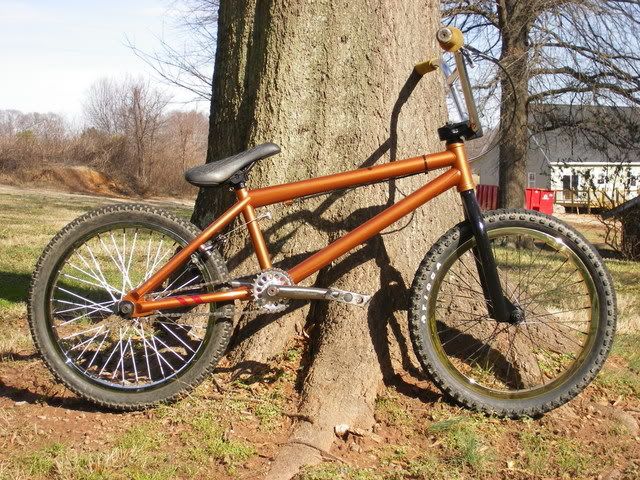 My buddies bike I just painted. It started life as a Fit S2. It was camafloge all over. I think it looks pretty good.
My bike:
Started as a Premium complete. I've changed it a good bit since I got it.
frame: Premium team 21"
fork: Odyssey Race
stem: FBM Protect Ya Neck
bars: FBM Ape Hangers
grips: Demolition Team
lever: Dirt Harry
brake: Demolition Vulcan
seat: Macneil Capital
post: Macneil OG
cranks: Profile 175 w/ti spindle and green cone spacers
pedals: Ody Jim C.
front wheel: stock except the green Proper rim
rear wheel: stock Rhyno Lite with Premium cassette
front tire: Aitken 2.1
rear tire: aitken 1.9
mods: Little bit of green paint I decided to do.
I've had this thing for right at a year now. I've barely ridden my mtb since. Just too much fun.