<b>WAY</b> Dumber than N8 (to the power of ten alm
Its gotten to the point where I need to get out of town for a month. Some alone time, just me and the bikes, is what I really need right now.
I'm going to blast out of town from October 19 to November 19.
Right now the plan is to head east into Idaho. I have an old college buddy who lives outside of Boise.
Then south into AZ. A friend of mine lives in Tempe.
Then across I-10 to San Diego. Up to the Salton Sea. Stop and surf in LA. Drive up through the central valley, back towards Reno at some point.
I need ride suggestions. I figure I'll take my XC, my DJ and the Nomad in the back of my truck.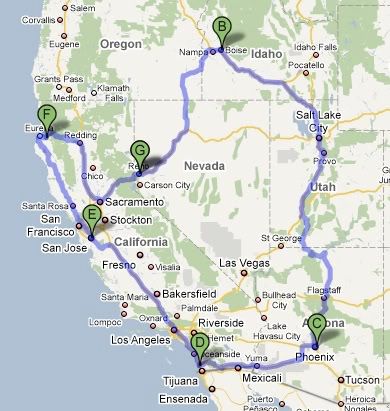 This is roughly the route I am going to take. Any suggestions on places I shouldn't miss? Any spots I can DJ you'd be willing to PM me?