This is long.
I had the chance to demo the full line of F-stop gear last year for F-stop and so far I have been incredibly impressed. F-stop prides itself on being a photo/video bag company specializing in the action sports photography demographic. Packs and bags are catered for the specific needs and desires of todays top action sports photographers and changes are made based on real world suggestions.
Snowboarding, biking, mountain climbing, skating, you name it, the F-stop bags and packs will make sure that you gear is safe and secure and easily accessible even if you are hanging 60 ft on a single rope taking shots of a rock climber.
I have been using the Satori and the Tilopa packs for over a year now. The Tilopa is a smaller version of the Satori but it packs the same features albeit a little smaller so this review will be based primarily off of the satori.
Here are the specs for the Tilopa:
Volume: 45 Liter
Weight: 2032 Grams - 4.47lbs (With Full ICU) / 1392 Grams - 3.07lbs (No ICU)
Dimensions: 12" x 24" x 10"
Internal Compartment Dimensions: 12" x 22" x 10"
Internal Compartment Space Available with Large ICU: 7" tall ½" on each side, extra depth taken by laptop sleeve.
Torso Length: 18.5"
Metal internal Frame.
Fabric Info: Ballistic Rip-stop Nylon, Abrasion Resistant Nylon Webbing, High Density foam, Heavy Gauge Zippers, YKK Waterproof Zippers, Waterproof Urethane coasted mesh
And the tech specs for the satori:
Volume:
62 Liter
Weight:
2700 Grams–5.95lbs
(With XLarge ICU) / 1850 Grams – 4.08lbs (No ICU)
Dimensions:
12" x 26" x 10"
Internal Compartment Dimensions:
12" x 24" x 10"
Internal Compartment Space Available with XLarge ICU: 5" tall ½" on each side, extra depth taken by laptop sleeve.
Torso Length: 18.5"
Metal internal Frame.
Fabric Info: Ballistic Rip-stop Nylon, Abrasion Resistant Nylon Webbing, High Density foam, Heavy Gauge Zippers, YKK Waterproof Zippers, Waterproof Urethane coasted mesh
Since I have the first year run there are quite a few changes that you can check out on their website,
www.fstopgear.com
, such as a few more straps, molle straps on the bottom of the bag, moisture wicking foam on the back panel, etc. These changes were brought up by the tech crew as well as input from pro and amateur photographers.
My pack weighs in at 25lbs with most of the photo gear and a monopod. There is usually more gear, clothes, food, etc so it would be right around 30. I have yet to notice the weight during hiking mainly up and down Bromont and Mont Sainte Anne these past few weekends. There was a day or so that I complained about the weight but I haven't used a pack of any kind in almost 6 months.
The straps are very comfortable and have enough padding without being overpadded and bulky like a few other companies such as lowepro. The chest strap works pretty well and slides nicely for easy adjustment. The one thing that I have noticed one mine is that the chest strap "clicks" on to the shoulder strap, if you pull on it more than just a light touch then it will come off and it is nearly impossible to get back on. The one from my tilopa is somewhere on the mountain at MSA as I threw it after getting fed up trying to get it back on. As I said earlier, F-stop has listened and has fixed this for the new models on all bags. It is now sewn onto the shoulder straps like many backpacks that have the same chest strap, unfortunately you can no longer adjust the height, just the width. There are also two, (one on the new one) mesh pockets on the straps to hold small things for easy access but I still have no need for them.
The full size hip belt works like a top notch backpacking pack. Very comfortable and it bears quite a bit of the weight like it should. There are small zippered pockets on the belt to hold smaller things like lens caps, batteries, snacks, etc, the zipper is not waterproof though.
The front of the pack has two vertical zippers in the middle of the pack for more storage. The pockets are big and deep and can hold a small umbrella, jacket, batteries, etc. They are easy to open yet waterproof and easily accessible even with a monopod or tripod on the bag. There is also two bungee straps on the front of the bag that work well to hold a light tripod or a heavy duty monopod. The snowboard straps on the front of the pack help hold a tripod or monopod from moving around much. The snowboard straps are much like ones you would find on a Burton pack however they are not padded or have anything to keep the board from moving around. A few strips of silicon or a rubber padding on the inside of the straps would be a great idea. It has held my Burton Suopermodel 158 with bindings on multiple backcountry hikes and it holds it fairly well. It is on par with a few of my backcountry Burton bags.
On both sides of the pack there are 4 straps, ( 2 on each side) that run horizontally . These are quite useful for a small tripod, ski poles, snow shovel or anything else of the kind. Again a small strip of silicon to make sure things don't slide around would be quite nice. There are also two large pockets, (one on each side) and on the front of each pocket there are two zipper pockets. These are great for holding the ends of tripods and they can hold a nalgen bottle and/or a 1 liter bottle quite easily.
The top of the bag has a large pocket the width of the pack and holds quite a bit of gear. The top of the bag also has has the main compartment opening. Both this part and the above pocket has an inverted opening meaning that it opens opposite the normal way to keep water and snow from getting into the compartment. The zippers are waterproof and although a bit tough to zip is worth it for the waterproofing.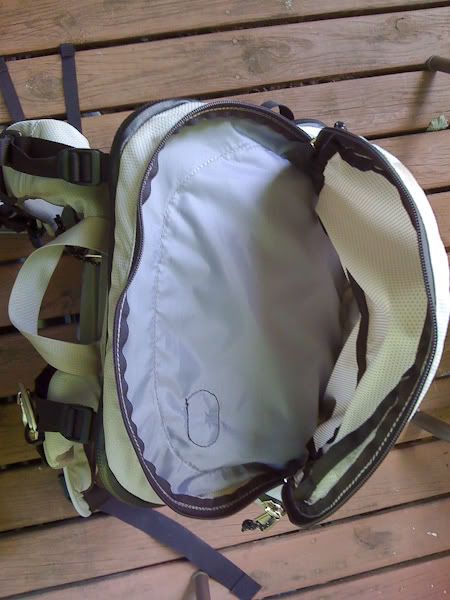 The main compartment is quite spacious and easily accessable from the top and from the back. The compartment has a padded pocket that holds a laptop up to 17" and has a small velcro strap on top to keep the pocket closed and the laptop from sliding out. I have noticed that my 15" laptop moves a bit in the pocket and the velcro strap is not strong enough but again, F-stop has fixed this with a stronger, wider velcro strap.
Moving to the back of the pack the is the main compartment flap that is well padded. My one gripe with the back padding is that it is quite hot which is nice in the winter but uncomfortable in the summer. It looks like you were jumping rope in the attic. A sweaty back sucks. The updated version of the padding is a different material and is also a moisture wicking lining which is a welcome change. The zipper is also a waterproof zipper but is much harder to move one handed either opening or closing if you have to get into your bag or close it quickly one handed. It is a bit of an annoyance for me and I have yet to notice it getting easier. Again I can deal with it as it is completely waterproof.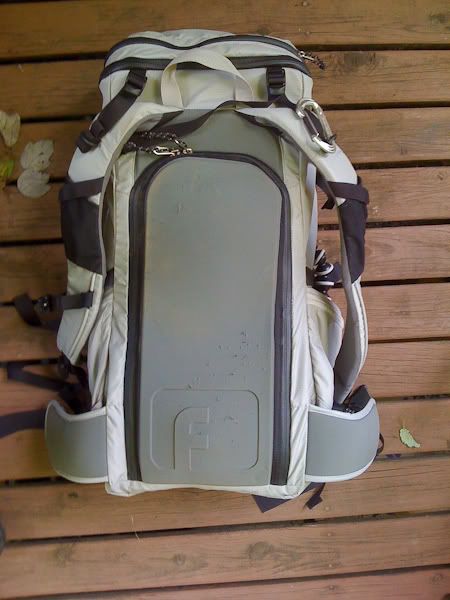 On the back side of the padded flap there are two large weatherproof pockets which are the width of the flap. These two pockets are just wide enough to hold things such as memory cards, filters, pens, paper, etc something that isn't to think or bulky. You can feel thicker things through the padding but it isn't more than a small annoyance.
The ICU, (Internal Camera Unit) is like the normal internals of most camera bags. It is lined with velcro and has all of the pieces to fully customize the internals to your needs. You can also use other parts from other bags that have the male end velcro if you need it. The ICU has a double zipper to close it out from the rest of the pack which is a nice feature. The zipper is not waterproof on the one that I have but it is water resistant.
The one thing that sets this pack from many other photo bags is that you can completely remove the ICU and use is as a smaller bag on site. It has one carry handle on the top and both the bottom and the sides are fully padded. This is where a waterproof zipper would be nice as well just in case.
There is a velcro strap that goes through an eyelet inside the bag as well as a large piece of velcro on the bottom to hold the ICU inside of the pack. It holds quite well and doesn't move too much.
I would like to see another zipper on the outside of the ICU and on the inside of the pack to keep in completely in place. I have noticed that the metal internal frame sometimes overlaps the ICU and you have to move it below the ICU zipper to zip up the ICU.
I have taken the ICU out and used these packs for 3 day hiking trips as well as a suitcase which holds quite a bit clothes.
I would like to have a little larger ICU in my pack as I have the large. The newer Satori's are shipping with the XL ICU and would fit my gear perfectly.
There aren't too many cons to these packs that I have noticed so far that I haven't already talked about earlier. The F-stop crew really sat down and figured out exactly what was needed in a expedition, backcountry style pack for the extremes that us photographers need. They are constantly improving their product and they stay in constant touch with their customers and photographers.
F-stop has a cool little swag giveaway going all the time. All you have to do is send them a picture of your gear in your F-stop bag and they will send you a free F-stop camera strap. They also have monthly newsletters, contests, and swag giveaways.
F-stop has a 45 day satisfaction guarantee return policy as well as an amazing 20 year warranty on all bags. Burns, tears, damage, etc are not covered in the warranty but can easily be fixed for a small price and a quick turnaround time.
The Satori comes in foliage green, cranberry w/ grey and black/grey. The silver (pictured) will no longer be a color choice.
If you are looking for a photo pack that will outlast all the trips and photoshoots that you are going to take, super durable and built for the sports that we do and not for consumers looking to shoot pics of their kids playing soccer then these F-stop packs are for you.
Make sure to check out the Satori as well as their other packs, bags, cases, straps, etc at
www.fstopgear.com
Last edited: