Ghetto Tubeless Conversion DIY: Tips & Tricks
NOTE: Im downloading the pictures now to place in here for visuals...
First lets start with the premise of what we are doing, we are getting rid of the use of tubes and converting a standard Rim to a tubeless set up to hold air and seal with the tire.
We will be slicing a tube on the outside center around it and splitting it open to stretch over the rim, then the tire is mounted and some sealant is used to assist us in sealing it up and taking care of any cuts, punctures or impailments from sticks rocks etc...
Ive been running tubeless in many configurations for the last 5 years from UST set ups to strips and ghetto, I have also used many UST and NON UST tires, DH casings and single ply's as well as different sealants over that time. I have experience on them in 5 degrees to 105, from bombing mtn. snow runs and Ice to hot dry desert and rocky stuff. Id consider myself extremely proficient in tubeless conversions and experience.
Different types and terms for tubeless are:
- UST which is a industry standard for tubeless configurations on tires and tubes.
- Rim strips or conversions are rim strips premade with the addition of a sealant
- Ghetto is a tube cut down to size and sealant added as well
I have found Ghetto to be the most reliable under a wide variety of circumstances from rolling and burping in a G-out to rocks and low pressure set ups, next would be a stans rim strip and last is a full UST set. (this is for DH use not XC)
I have not had good luck with UST specific tires, and being that I want to run sealant and a NON ust tire I use whatever rim I want based on weight. A light weight tube cut down is lighter than a UST rim, or rim strip and I would run stans it either for pucture protection so the weight of sealant is a wash......
First off the rim:
(based on 26") DH/FR wider rims
Whatever rim you have should be just fine, doesnt matter if it has a deep gully in the center or not. Rim width is not too crucial I have done this on 721's, 729's, syncros 32's, 6.1's, outlaws, I9s, and more and all with great success...A low profile side is not recomended not that I have encountered this but a thin bead channel that doesnt grab a solid hold I wouldnt recomend.
Tires:
Just about any tire works decent it does not have to be a UST tire. I dont recomend UST tires, the butyl and rubber comoposite herniateds and blows out stretching the carcass... Ive killed off several by several different manufacturers......
I have used Maxxis, Schwalbes, Continental, Specialized all with great success.
Kendas DO not play well with stans at all and they are the only tire I have personally used that had this issue... So I do not recomend Kendas for this with Stans sealant...
As far as ply I have run Single ply and DH casings with great success, I do not recomend using a off brand or cheap tire, they have a tendancy to have beads that are bigger and will pop off. Stick to the major players and you should be OK...
Tubes:
(20" schrader valve)
We will be using a 20" tube for this, it is not neccesary to use a DH tube or thick tube. The tube is not there for puncture or snakebites, its to cover the rim and seal to the tire bead.
I have used alot of different tubes for this and narrowed it down to a solid and LIGHT weight tube that I only use now.
Schwalbe tubes are what I recomend and not because of priorities but because I have used alot of others and these have been fullproof. A threaded schrader keeps the tube from slipping at all as well as locks it in place with a solid look as well.... By having a ring that threads down it locks that area by sealing the rubber moulding around it to the hole casuing a tight fit.
Tubes recomended are:
For AM/FR/DH rims: Schwalbe AV 7C extra light 20" threaded schrader its 95grams before cut and 53 grams after cut (+/- a few G's based on cut)
For XC and enduro thin profile rims: Schwalbe SV 6A Extra light threaded presta its 65 grams before cut and 42 grams after cut. (+/- a few based on cut) Also this is the recomended for a thin profile rim because it has a thin rectangular filler mould that fits inside the beads without sticking up and covering the bead by the presta not allowing the tire to lock in and seal... It has a thin mould profile.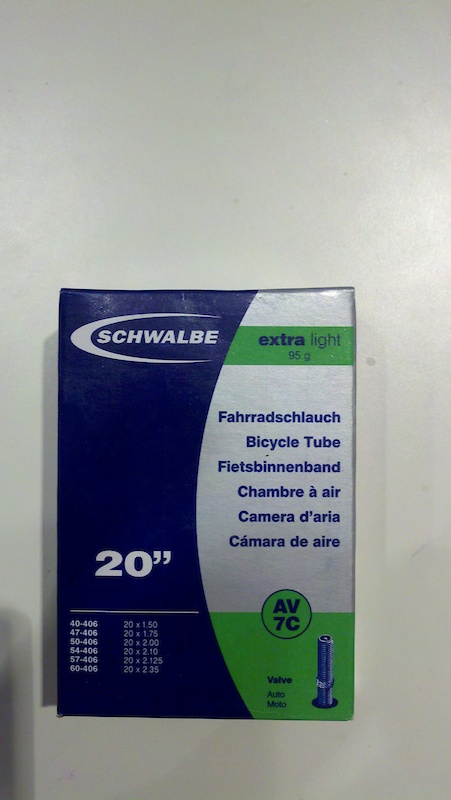 Heres the tube for thin XC rims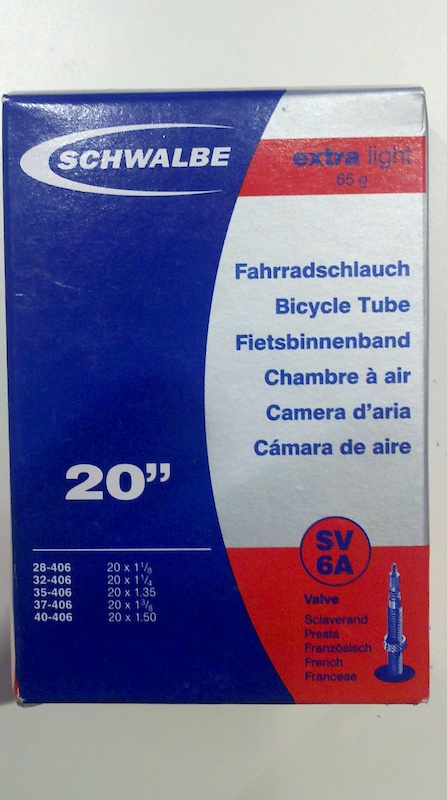 This is the XC tube notice the rectangle shape bulge around the presta valve, its skinny enough it doesnt interfere on a thin profile rim... For XC stuff make sure its like this is...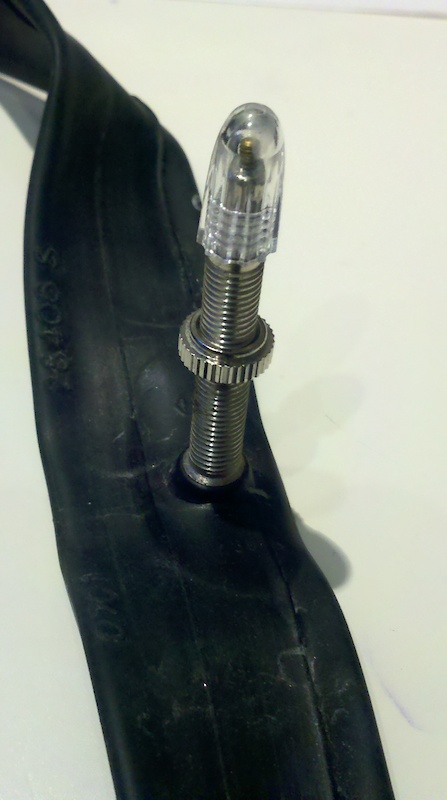 Note: You can use just about any 20" tube, I prefer these. I have used ALOT of others and its just cleaner and easier with these, the mould profile by the schrader is smaller and fits withing rim profile not obstructing the bead from sealing with the tire. The others were a hit or miss.
Sealant:
I have used a couple different sealants now and Im back to Stans, it always works. I have heard a couple of tricks like adding a 1/4 of the sealant with cafe latex and it will foam getting better coverage. I dont know this to be true but I do know cafe latex does foam a bit and does not seal as well as stans so Im sure it would add a bit of foaming action if mixed with stans sealant.
I know that there is tutorials on Ghetto latex mixes for sealant and I played around with one and it was just easier and less messy to grab a stans bottle. Stans has done a SOLID job on their sealant and I trust it.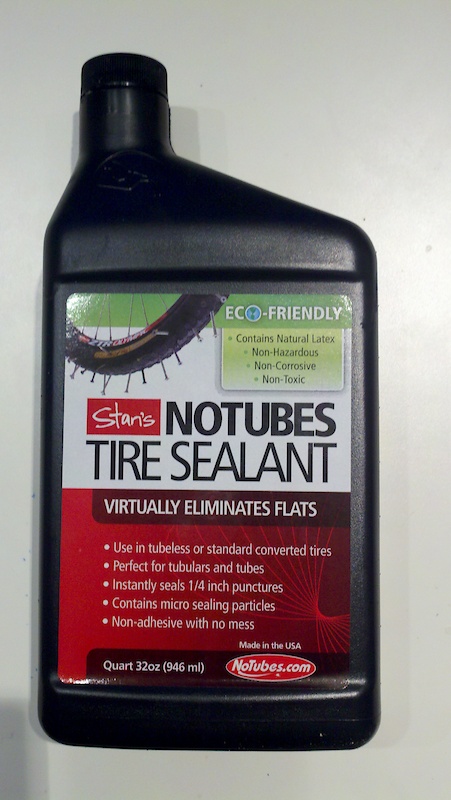 Last edited: