So DHRFX Joe and I made the journey to Lynn Woods today to get in a good ride. For those of you that have ridden it you know how rocky and punishing the place can be. For myself, it was my 4th ride on clipless pedals in a long time, and the 1st on terrain that was technical. It is definitely going to require some getting used to, things seem to get a lot more challenging when you have to commit fully. In any case, here are some of the pictures.
This roll has a little bit of history to it. Rewind a few years and Joe was on a Banshee Scream with a Monster T, freeriding and dropping to flat at every opportunity. This was until the fateful day when this roll down broke the Scream's front triangle. From then on Joe didn't do too many drops to flat, and traded the Banshee for a DHR. Only after finding out that the rear triangle was cracked too.
His RFX had no problems with this one.
Here is me doing it.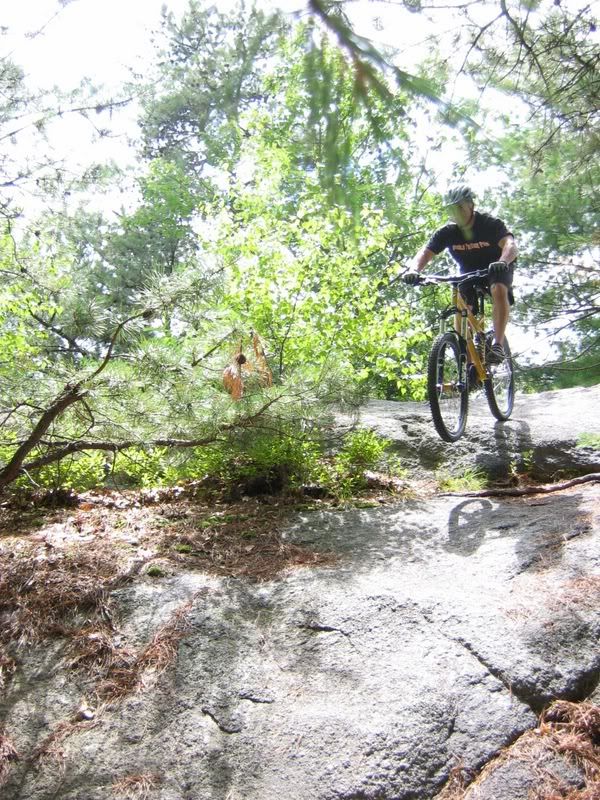 Sadly this picture doesn't do this roll justice. Super sketchy, probably have a 6" wide rock path down about 4' or so. Still scares the crap out of me everytime I do it, which with my clipless pedals definately was not today. Joe however did do it.
Can't have all hucking/rolling. Here is a gratuitous uphill climbing picture. You can thank me later.
Here is another famous Lynn Woods roller. 4' or so of what feels like straight vertical drop. He had to lean waaaaay back for this one.
After trying, and failing, sending himself crashing to the ground in amongst a pile of sharp rocks, Joe once again attempts to get up this wall. Did he make it?
This picture was pretty sweet until a spider decided to climb onto my camera and dangle his legs over the lens. What an inconsiderate spider.
Same roller, different angle. I would have to say, I have a damn nice ass. And calves, those are pretty impressive too. I'm sexy (and single too if there are any lady Turner riders out there on the prowl).
Seeing as how I crashed shortly after this one and hit my knee into a rock, I was taking it easy. Joe however was still doing his thing showing the woods who was boss. Before this picture he told me he was going to get way behind the saddle and lean back so he would look cool. I will admit, it does look pretty good.
Too bad his front tire washed out at the bottom and he flew over the bars and slid headfirst in some rocks. PWNED. Just for the record it was his Larsen TT tires that washed out causing this disaster. I told him to get some real tires. With both of us nursing small wounds we decided that was enough Lynn riding and we rode out.
However, that was not the end of the days festivities. Only a short distance away was the Fells Reservation. More XC type riding, up and down, fast, fun. We only took a few pictures on this one in a fun section.
Check out that face. I hear his o-face is pretty similar.
Kicked the rear end out around this one, did his little racer boy routine around this corner.
Finally one of me. Check out those sweet socks. BLING BLING!!!!!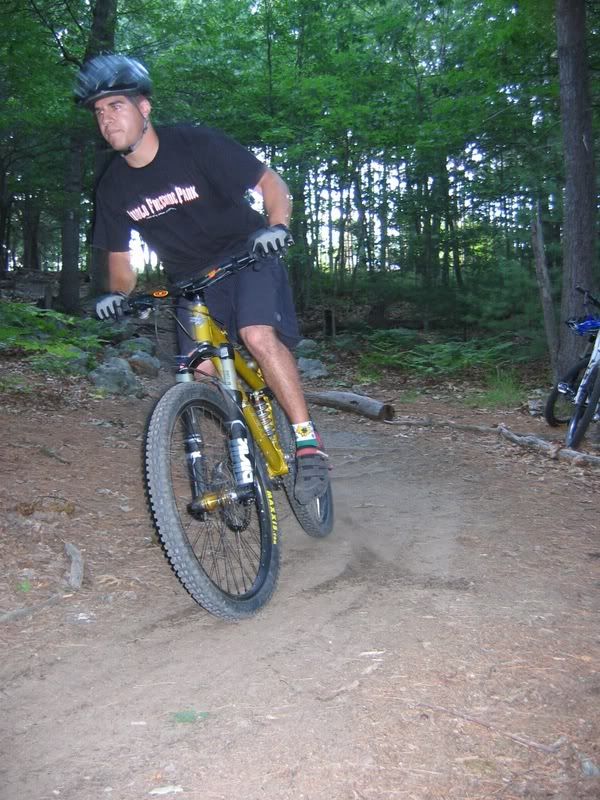 To all of those who have been following the "Hey FM, do you recognize this?" post know that I have been trying to decide what shock I wanted to replace my Romic with. Well, I rode Joe's DHX Air friday night and it felt pretty good to me. I would have to play with the settings a little bit more in order to get it set up correctly for me, but overall it was a great shock contrary to what others said. Felt a little on the firmer side (didn't mess with the ProPedal, which I found out after was pretty jacked up) but otherwise would make a great shock for trailriding. The only issue with it was that it scraped my downtube and removed the some paint, but luckily no dents, or breakage of the boost valve on the shock that was not mine. Today I borrowed his Ti sprung DHS. Definately more similar to my Romic, but with a more controlled stroke that did not wallow when I hit rocks and roots. I still have to play with the settings, Joe said he backed out the compression all the way but I cannot confirm that. It felt like a terrific shock, definitely more suited towards rougher riding, something I wasn't sure I needed as my RFX is my trail/freeriding/everything bike, and I didn't want to weigh it down unnecessarily. So what did I do? I bought another Turner to use for XC/trail duties, a 2002 XCE which will be here this week and I have to give a big thanks to Joe for hooking me up with his DHS at a great price.:thumbsup:
So, here my bike is in its near final incarnation. Yes, it is on the edge of a 50 foot cliff, and yes, if you look carefully you can see Boston in the background.
That concludes this ride report, thanks for looking!