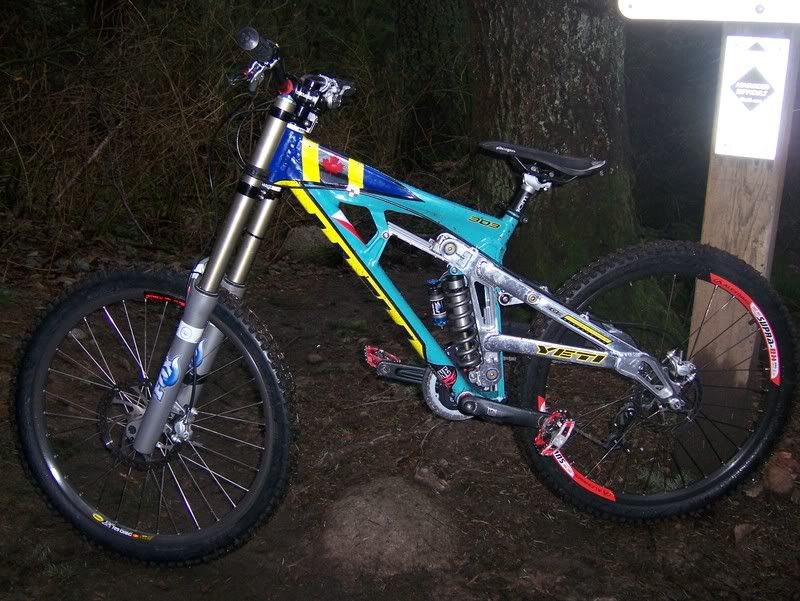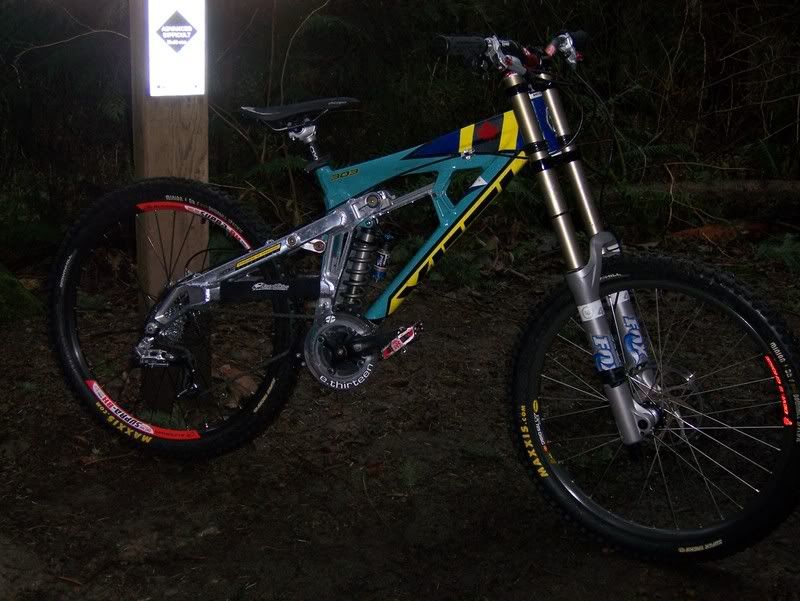 Went for a Christmas day ride to test it out and it's awesome.
Suspension is very supple and it gobbles and eats up everything. I have to say that I like how this bike rides than the IH Sunday I replaced. Perhaps the IH Sunday wasn't for me (I like to plow than to finesse). Perhaps the same reason why I replaced my Commencal Supreme DH with the IH Sunday.
I felt at home with the Yeti 303 on the first run down. Reminds me of the Foes DHS Mono I had two seasons back. They actually do ride alike!
2007 YETI 303
THIS RIDE: 1.5 km
TOTAL RIDE: 1.5 km
FRAMESIZE : Small
BIKE WEIGHT: 45.0 Lbs
FORK: Fox 40RC2
SHOCK: Fox DHX 5.0 with Ti 400# Spring
Brakes: Juicy Carbon Front and Rear, 203mm front, 160mm rear
Rims: Mavic 729 Front / Alexris Supra-BH Rear
Hubs: Chris King ISO 20mm front / Formula 150mm x 12mm rear
Tires: Maxxi Minion Fronts (front and rear)
Tubes: Standard 26" front / Puncture-resistant 26" rear
Shifter: SRAM X.0
Derailleur: SRAM X.0
Cogset: SRAM X.0 with 9 speed 12-26T
Cranks and BB: FSA Maximus 165mm
Ring: 36T Envy
Guide: E13 SRS
Seatpost: Axiom Generic 27.2mm
Seat: Selle San MArco Ponza
Grips: ODI Lock-on
Stem: Truvative Holzfeller 31.8mm x 40mm long with 25.4 shims
Handlebar: Easton Monkey Lite CNT, 28" wide
Front tire: 23 psi
Rear tire: 25 psi
FOX DHX 5.0:
9.5" x 3.00" Stroke
SPRING: 400 LB
PRELOAD - 0 turn (To achieve 30% sag)
REBOUND: 7 clicks
PROPEDAL: 4 clicks
BOOST PRESSURE: 100psi
BOOST SETTING: 0 TURN
2007 FOX 40RC2:
Travel: 8" setting
Oil: Lube bath Dura-Lube
High Speed Compression: 0 Clicks from full out
Low Speed Compression: 0 Clicks from full out
Rebound: 6 clicks from Full out
Preload: 0 clicks from full out
2007 YETI 303 FRAME SMALL
Headangle: 64.00 degrees
BB Height: 14.50"
Chainstay length: 17.625"
Fore Seat to Handlebar: 15.50"
Seatpost with Seat Angle: -2 degrees
Wheelbase: 44.75"
Front Axle to Handlebar: 31.00"
BB to Topseat: 22"