So i was perusing videos on myspace yesterday and came across a vid of a soldier in Iraq acting like a ninja w/ a bo-staff (off-duty, in barracks). it was fairly humorous but some asshat makes the comment that he wished the soldier would get "hit by an RPG for his lack of bo-staff skills." so i promptly went to his video page, found a vid of a monster truck rally and proceeded to, uh...encourage him to be a better person
so, onto the meat of the story. i check myspace today and i have a new message (very rare for me as my account is private and i rarely use it). guess who! it's the asshat that made the comment and this is what he wrote:
opinions are like a**holes everyone's got them the army has a dont ask dont tell policy just so soilders like him and u can join and not get you faggot a**es beat by real men come at me with respect or dont come to me at all it's easy being a computer hard a$& but we can see how hard you a** is after i fill your hard drive with virius's and see how much your wife love's you after they all open up to the porn site's u have been looking at f*** with me and find out faggot i've hacked more stupied fag's for running there mouth then i care to remember so f*** off and have a nice day
well....of course i check out his profile to see who i'm dealing with, expecting it to be some tween with typing turrets but to my delight, his basic profile gives me his birthdate, wedding date, wife's name kids name and his city of residence. so i dig further (remember, this is a PUBLIC profile) and start checking out his pics.
well, well, well...what do i see but a folder named "Herb Time" with about 20 pics of his indoor grow op including pics of him and his wife holding the product and smiling! holy crap....eureka!
but wait, it gets better......i then find a folder named, VW, and guess what it has in it...yup,
pics of his new car complete with a close-up of his license plate!
so i'm thinking....this is just too easy when i find a pic of his kid sitting in the car in front of his house which is also in
perfect view of his house number.
not only that but the
windows on the garage match perfectly with the windows in the grow-op pics!
so, being the diligent occifer that i am, i call the narcotics division of the anderson PD and have a chat with one of their detectives. i explain who i am and proceed to tell him this whole story. we both have a good laugh and i sent him an email with screenshots of all of the pics just in case this dude gets a clue in the next day or so and deletes the pics. i'll find out tomorrow what happened but it won't take much work in order to have enough for a search warrant.
i've got a nice reply all typed up for this tool as soon as i hear from anderson pd as to the status of the case
moral of the story: If you're going to make threats online, make sure you read the person's public profile and remove the pics of your weed op from your public photo album
here's a pic of the screenshot i made of the "herb time". i'm not posting the one of them holding the product up to their faces just yet...i'll save that for after i hear back from the PD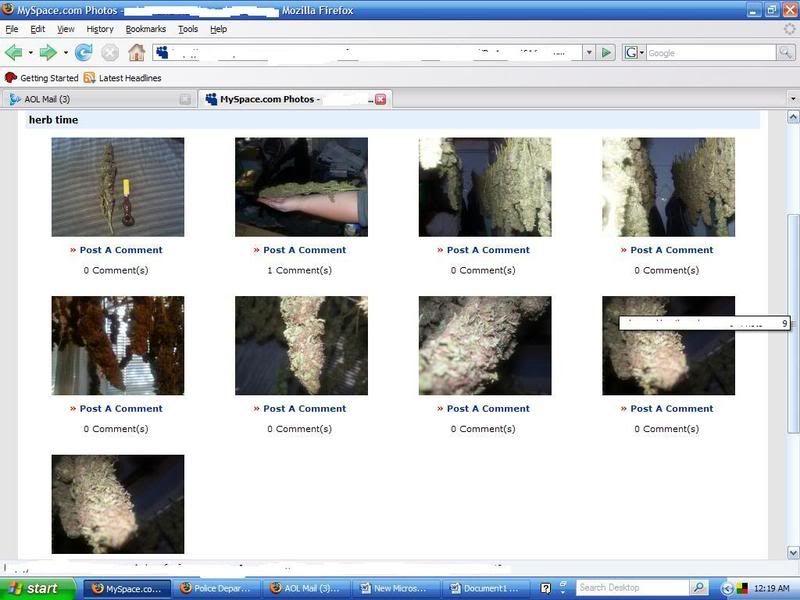 and of course, if you're gonna put your grow-op out there for everyone to see, might as well put your license plate out there too!