I am sure most of you know earlier in the year while I was training for RAAM I was mentioning doing the divide race and would have to build a fat bike for training and eventually using it for racing the divide race or something similar.
Well I finally got it all together over the last couple days and got this epic roller slapped together.
The 2013 frame came in a metallic flake Black with a gloss coat, I figured I would run this through the winter training locally and see how it fairs to some good miles and weather every day.
The reason I chose the moonlander over the puglsey or other fatbike choices is because surly was the only one that offered a 4.7 inch tire and wheel that what made for it. The tire choices are pretty simple, mild, wild or studded and of course I bought all three tire choices. When the tire has around 20 psi it measures pretty close to 5 inches wide. When at a normal snow psi of 6-10 psi it flattens out to more than five inches.
The new clown shoe wheels are significantly wider and more engineered than the prior choices from surly. They have speed hole on the hoops to shave weight. The rim strip actually bulges out when you have some pressure in the tube but it doesn't affect anything. The wheels are laced three cross on a 36 hole hub but they are off centered in order to make room for the brakes and drivetrain.
So far the only drawback I have found is that I have to buy another wheel truing stand in order to fit these massive meats. In this photo I have the wheel truing adapter for the off center wheels on the left in red. Nothing will fit even close into a typical park shop stand.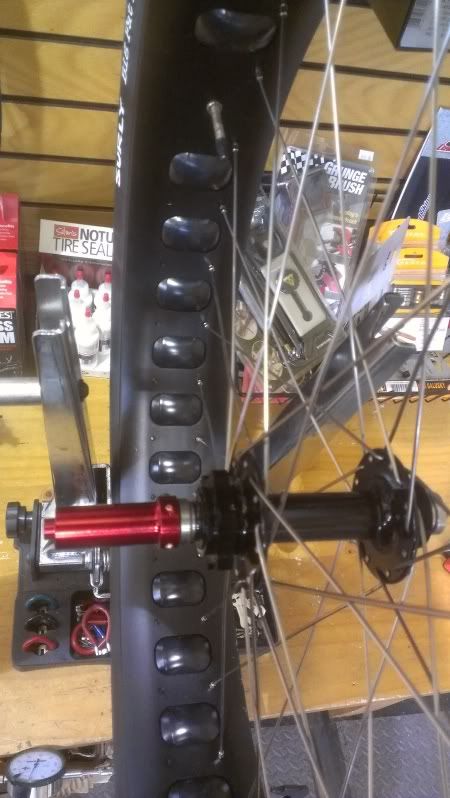 Hre is a shot of the fork before trimming and mounting. I stuck it in the stand with the steerer plumb straight up and downs you can see the crazy sweeps and bends it has in order to line up the wheel.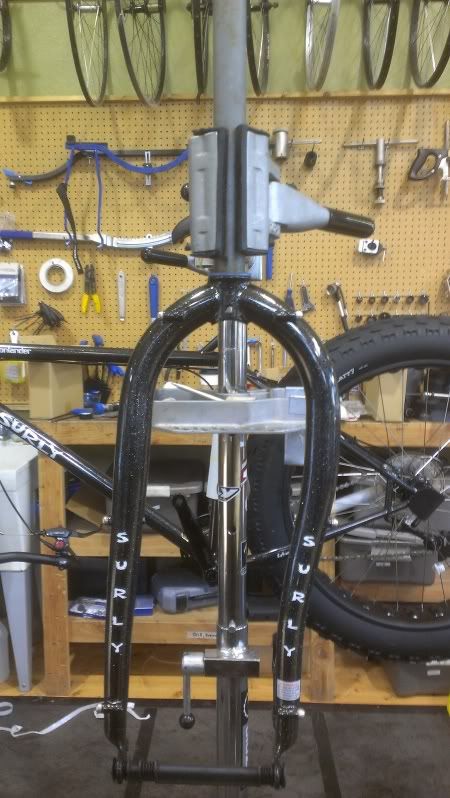 The bottom bracket on this thing is like a Toyota axle. I can only imagine the noise this thing will make after a 1000 mile race. It came with a pretty decent bash ring on it and surly branded crank arms that look and feel like hussies.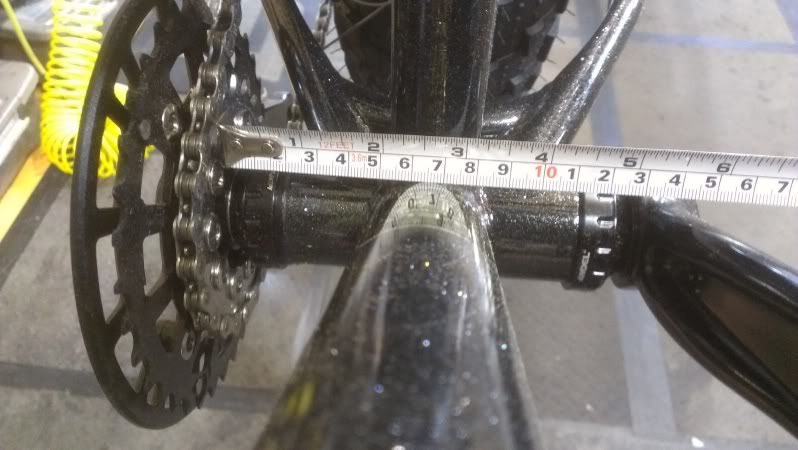 There is about a half top three quarters of an inch in between the tire and chain stays as well as chain clearance. It will be a little less when I add the aggressive tires.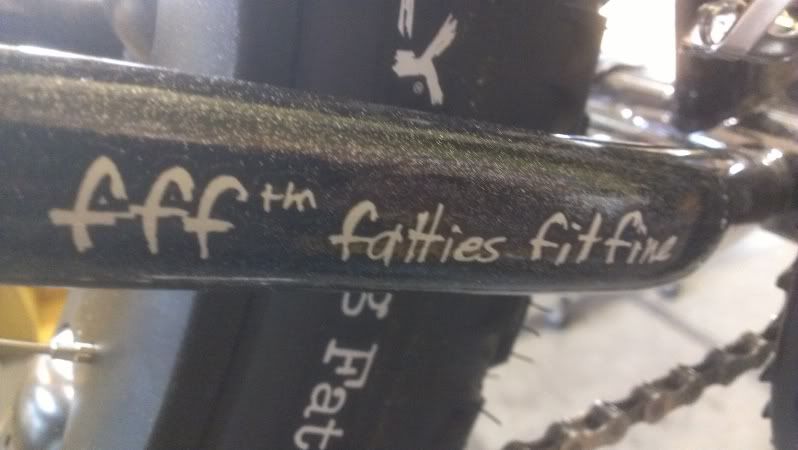 You can really see the bending and twisting of the frame and forks to see the contortion in order to get the off center aligned on the wheels and agent everything tracking in a straight line.
I all I went with a very plain Jane build since this is going to a true endurance race bike. I put on tried and true parts that the others racers say are the only option for longevity, ease and simplicity in order to get you across the 110 mile days.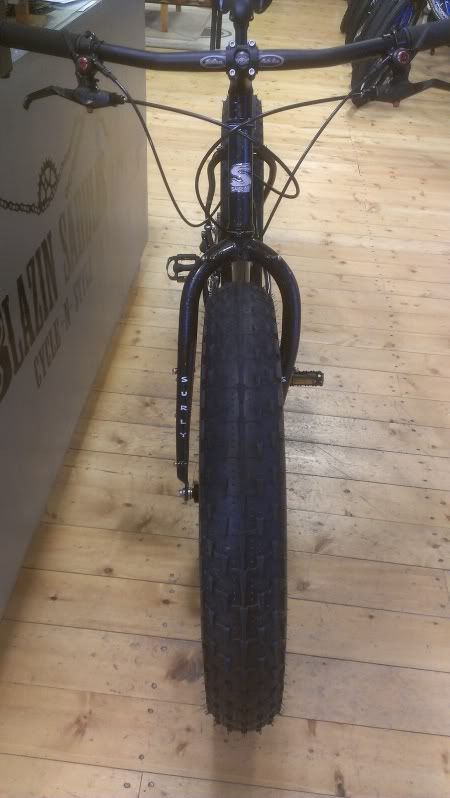 The whole build came out to 35 pounds. It doesn't seem like it when you consider the purpose of the bike and the gearing it has.
The bike mobs!!
I love it, I wish I had a fat bike years ago. I can mob a curb straight on with out worrying about a thing. It floats on sand and snow like a dream. In fact it makes a groomed cross country trail feel like asphalt. I took this pic next to my truck so you can compare it to the trucks tire size.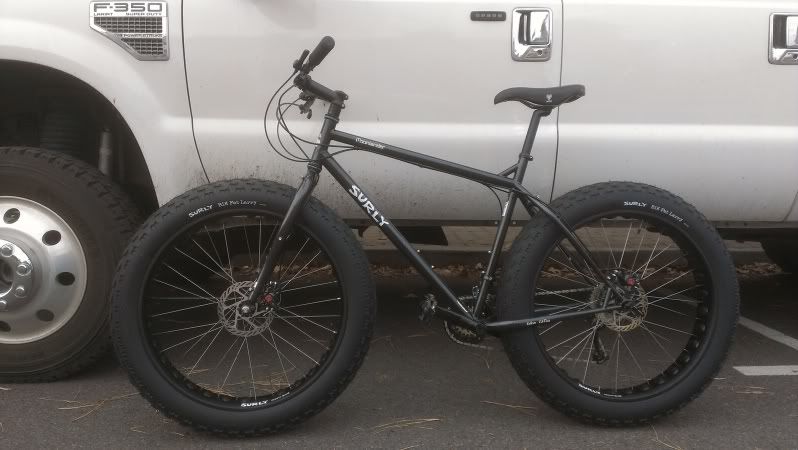 Last edited: