Evidentaly some dude was backpacking and saw bigfoot on the next ridgeline. Holy crap man.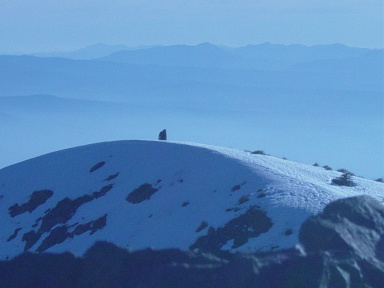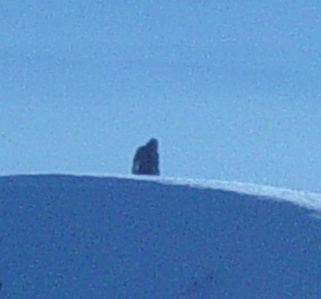 http://bfro.net/news/silver_star_mountain.asp
November 17, 2005 - outside Yacolt, WA

A backpacker from Vancouver, Washington, took these photos on Silver Star Mountain in Gifford Pinchot National Forest on November 17.

He says he doesn't know what the figure was, but he does not believe it was another hiker or backpacker.

The photos are inconclusive, but they are potentially relevant.

The figure you see could be a sasquatch. The silhouette is comparable to the lanky silhouette in the Marble Mountains footage. It also looks similar to some eyewitness sketches.

As in the Marble Mountains footage , there's nothing in the outline to indicate that it's another person (except for the upright posture). There's no lines indicating clothing or a pack. The lump on the neck could easily be a clump of hair, similar to what you can see in the PGF.

Most snowshoers or backpackers in these conditions would look different than this silhouette. It will be useful to compare images of an equipped snowshoer or backpacker standing at this same spot at the same time of day. We're hoping a few different people will heed our recommendation and go up there to get some comparison photos.

The terrain and present conditions helps and hinders attempts to get more photos/footage in this area. Deep snow on the ridges makes it more difficult for a photographer to move around up there, but it also makes it easier to spot trackways and movement.

It won't hurt to suggest to people in Washougal and Yacolt to carry a camera when driving around.



BFRO investigator John Callender interviewed witness (initials RC) near his home on Friday, November 25, 2005.

John says, in his opinion, RC is honest and credible. His locale and normal activities would have put him in a position to get these photos. The story and photos do not appear to be hoaxed.

These photos have not been digitally manipulated or enhanced. They were copied by our own investigator straight off RC's digital camera. The full file has not been compressed. You can download the full files by clicking the top two photos.

RC will have to write up his sighting report and submit it to the database. His sighting report will contain the directions to the location, and any other relevant details about the incident.

The clarity of these shots is nowhere near Patty, but the images are clearer than any frames in the Manitoba footage.
The shape, the location and the circumstances, makes the photos interesting enough to release for examination.

Comparative images, using a human model at the same spot, will help demonstrate the unusual aspects of this figure.

The size might be very big, and possibly off the chart for a human.

The camera positions will be easy to re-establish, along with the horizontal and vertical position on the ridge. The exact distance will be hard to determine and re-create with accuracy.

A person will have to be directed via radio to stand in the correct horizontal and vertical line, and then step back until his/her waistline is obscured by the foreground. With those angles re-created, there will be a rough comparison of body dimensions.

The figure may dwarf the human model to such a degree that it will speak for itself.

Obviously there's also a potential for more photos of this figure in this area, and there may be old or fresh track lines in the snow.

The area is inaccessible to most people at this time of year. Only some determined hikers or snowshoers will make it all the way. There's no danger of the area being overrun by people.

If you go there please photograph anyone you see up there with a long gun. Also, please get photos of vehicles and license plates at any pullouts or trailheads near the mountain. This will deter shooters and make it safer for photographers.

The photographer is temporarily allowing these photos to be released for reprint in qualified newspapers -- only newspapers -- not newsletters, magazines, books.