i finished the school a few weeks ago but just now have the time to write about it.
first off, it's sponsored by the Law Enforcement Bicycle Association (LEBA). It was very basic as it should be since there were people in the class that hadn't ridden a bike since they were about 10 yrs old.
the first day was basics, nomeclature, safety....blah..blah..blah. then, after lunch, we did a 10 mile ride through downtown and surrounding areas. that was pretty fun as i hung in the back w/ one of the instructors and chatted about bike stuff. that instructor is actually a fairly decent trials rider and we had several unnoficial mini-competitions during the week to include a 4+ minute trackstand battle
(LEBA only requires a 10 second track-stand to pass)
Day two was more of the same, but included a 20 mile ride and the super cool thing was that the halfway point turned out to be the same place that has our little, "city ordained" freeride/dirt jump park. so i made sure to finish my two laps around the park quickly so that i had some time to play at the freeride zone. the whole time i was hitting the dirt jumps i was thinking to myself....."i'm getting paid for this!!!"
Wednesday was mostly outside working on technical stuff followed by a 10 mile trail ride....that too was a blast as there were a couple sections that had a fun drop or two and the main group took the go-around while the instructor and I did a little show and tell on the drops
( i took the big hit that day instead of the P2
)
Thursday was more tech stuff, lots of riding around tightly placed cones. very fun.
friday was the test, battle ball and battle box. two ill-concieved games that you play on bikes, think polo mixed w/ football on bikes and battlebox was a very tiny cone box where the winner was the last one still on the bike. i won that
then we had a killer night urban ride through downtown in a torrential downpour. probably the most fun i've ever had in a group ride setting.
anyhoo...i only took a few pics as we were so busy most of the time and only got one pic of me actually riding.
tight circle course where they kept adding more riders to the mix...pretty fun
"M" track cone cours. actually pretty tech, especially for riders that haven't been on a bike in 15 years.
how we were instructed to take stairs.....
i took the much faster, "skip the stairs" method
and of course...the best pic of all. a P2 on back of a police car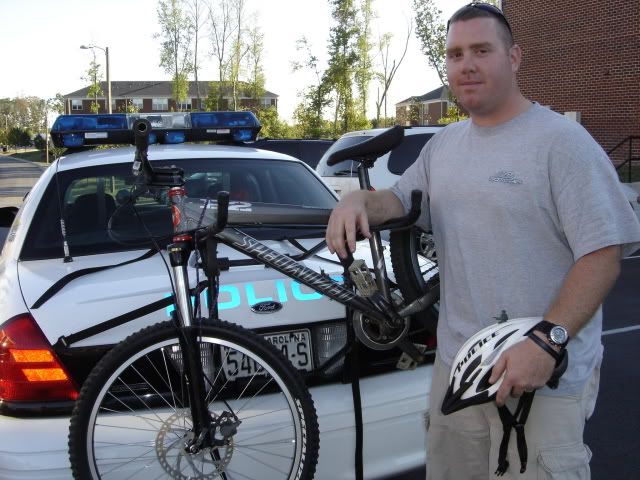 my department doesn't have an official bike unit yet but we're working on it and i may even get a budget for tools/tires/tubes to set up a small workstation since they found out that i used to be a mechanic at a bike shop. it's amazing how much illegal activity you can sneak up on with a bike and i think my department is beginning to realize the advantages