We arrived at Southridge Park at Fontana around 8:30AM.
Practice weather was fantastic. Mild temperature, no rain but the previous night's showers left the area adequately saturated. Teammate Brent (BMCarter) and I hiked up the course for a closer inspection.
The course had a pro/expert and sport/beginner split. The pro-expert course splits towards the rocky face of the hill typically used during Nationals. The upper section, shared by all classes, was pretty fun. Flowy, fast, very fast. The rocky/split section was definitely subjective. To some (mostly Fontana lifers), it was "fun and flowy" but to others, the rock section was pretty awkward. Practice day was littered with stalls and congestion especially at this one section, the 90 degree flat to off camber turn on a small sliver of a rock face many dubbed as barney/flintstone turn. It's very silly and unfortunately, we all had to just deal with it. The rest of the course is repackaged old bit. See the clip below, from top to the barney turn...
Lame on Vimeo
Round 4 started off bad for me. I hyperextended my left leg the previous Thursday on a night ride. Suffice to say, I had limited mobility during Saturday's practice and sat out the rest of the afternoon after the third run due to the excruciating pain on the upper left leg when I pedalled and pumped. The rest of the team riders seemed to have dialed in their respective courses.
Sunday, race day, the weather was good with light showers just before the pro got on the course. The leg pain subsided a bit and didn't feel too bad following one practice run. On my race run, both of our expert riders showed up before I got on deck. So off I went. I was very relaxed and pushed the bike as hard as I could. I missed one line on the fall line but it didn;t feel too bad. I booked through the rutted left hander and carried enough speed to boost through a small patch of rocks to the first flat pedaling section to the uphill (yes, that's Fontana standard). From there, my left leg got stiffer and painful to put through the motion. Then somewhere along the way on the tight rocky section, I dipped too deep inside a tight right hander and for some reason my body just stiffened up. Boosh!!! Posterized, finally!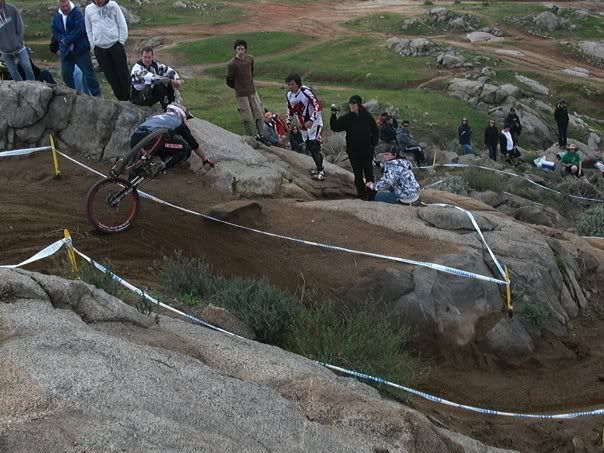 All I can remember was I had pins and needles sensation on my left shoulder as I sat my ass on a rock slab.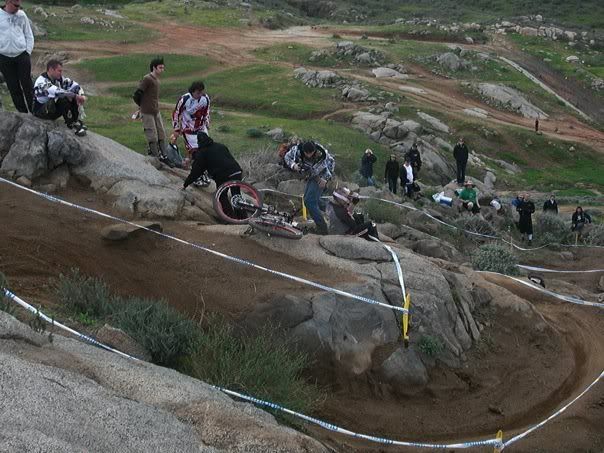 My shoulder went numb. I salvaged the rest of the run with some half-assed effort to pedal.
The start of my race season has been rough. Far too many crashes and other oddities to draw up a consistent charge. My nemesis and my teammate Bob Vigil Jr. is way ahead of our inter-team battle and will be harder to catch up to. I know he's just one consistent run from me to getting beat. I will have my day. Muhahahahahaha.
Time to heal up....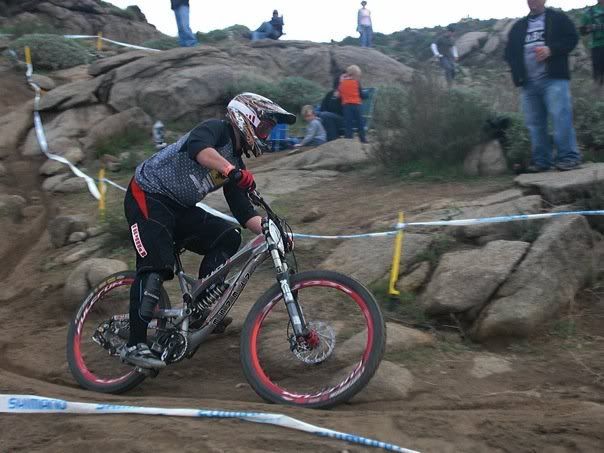 Photos by Joe Ortega.
Thanks to all our team riders who participated this weekend. Your company and trash talking is always a treat. See y'all at the Nationals.
Last edited: