So Gemini2k sold me his Duke spring for my Pike and I put the deal together today and am pretty excited about the result.
Just to run through the process...
Undo the allen bolt on the top of the uturn dial. After removing the dial carefully remove the three springs and bearings. I loosened the allen under the fork about 3 threads or so and then tapped it with a hammer to extract it. After it goes in unscrew it the rest of the way. Go back to the top, unscrew the top cap with a 23mm (?) or I just used a crescent wrench. Slide out the old spring.
Next take the Duke spring, undo the little clip at the top that holds the cap on the shaft and slide it off. Do the same to the top cap of the Pike spring and then reinstall the Pike cap on the Duke spring (the Duke cap is much small then the Pike's). Remember the little c-clip. Then just put some grease on the spring and lower it back into the leg. Reinstall the lower allen bolt and thread in the top cap. Install the springs and bearings in every third hole of the cap, put the dial back on and screw in the last Allen.
The result is fork that now starts at about 3.5" at the high end and when slammed its about 1.5". I always ran the fork slammed in its stock settings (95mm supposedly) and now I can run it that way for trails and then drop it for parks and jumps. I haven't tested it out yet, but I'll report back when I have (probably not till I build up my Tonic, so be patient).
There was lots of talk about stretching springs and whatnot, but this is a very easy and solid way to reduce the travel.
Cheers.
Extended to 3.5"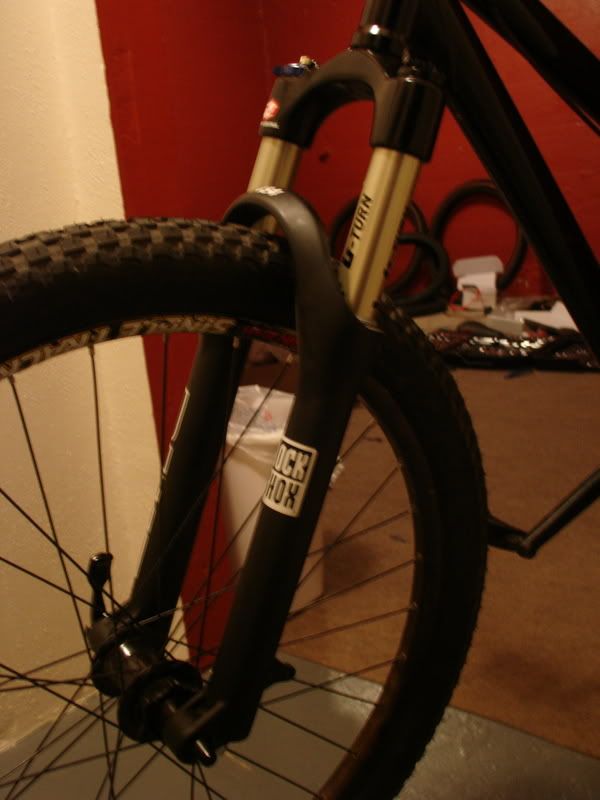 Lowered to 1.5"