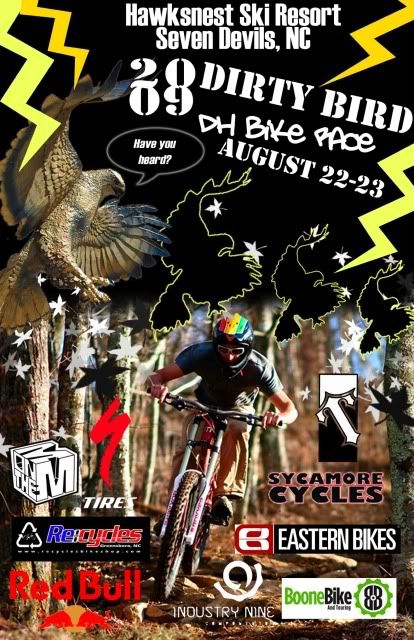 For the last couple months we have been working well under the radar putting together a new fall DH race at Hawksnest Ski Resort in Seven Devils, NC. Its called the Dirty Bird and will being taking place on August 22-23 (sat-sun). The track is just about finished now so we have decided to go ahead and let everyone know finally! There will be many details to follow, but I'll go ahead and try to answer some questions that you may have...
EDIT: all information added
Race entry fee is $50.00 for all classes. Register on site on Saturday or Sunday before the race. Cash or check only please, and there is an ATM located in the Hawksnest Ski Lodge for your convenience.
We will have 7 classes total, including Pro men/women, Amateur men/women, Intro men/women, and Junior (18 and under). Depending on the turnout of women for the classes, we may need to combine a couple classes.
There will be a cash payout for the Pro categories that will be determined by how many people show up to race. ie, more registrants, MORE money goes to pros. We will pay top 5. Expect a good chunk of cash for winning the race!
Top 5 in Amateur, Intro and Junior categories will all receive product from our great sponsors. As stated before, since the Juniors in the southeast have been very competitive this year and devoted to racing, we are giving away an Eastern black betty dirt jump frame to the top Junior to make sure that they go all out!
We have a schedule finalized, I just need to get a hold of Liam and get it posted up. We originally had Pro qualifying on Saturday afternoon, but have since moved it to Sunday the day of the race to save about $500.00 on insurance. This only means MORE money for you racers!
Food: we will have at least a couple food vendors on site, as well as a few kegs to keep you hydrated. There is also a "trail grill" up on the hill next to the Whoops section that we have installed into the ground. Bring some charcoal and grill up whatever you want!
Race Schedule:
Saturday
Registration 9:00am to 1:00pm
Practice 10:00am to 5:00pm (probably with a short break for food/water)
Sunday
Registration 9:00 to 11:00
Practice 9:00 to 11:00
Riders Meeting 11:30 at the Lodge
Pro Seeding Runs start at Noon
Races begin at 1:00 beginning with Intro class and ending with Pros.
Track Videos
Original video with our own Dirty Bird rap song...
And a little more professional edit showing the completed track...
Last edited: