*NOTE*:
The Thread Direction markings on the main pivot hardware on the first few batches of frames were etched showing the incorrect direction. PM me if you are tearing down your Revolt for end of season maintanence and I'll help you sort this out.
-Cheers!
General Measurments:
Head Tube Diameter:
1.5" (adjustable +/- 1 degree)
Head Tube Length (Stack Height):
Small and Medium: 120mm, Large and XL: 140mm
BB:
83mm
Chainguide Mount:
ISCG 05'
Seat Post:
30.9mm
Seat Collar:
34.9mm
Rear Hub:
150mm x 12mm
Shock:
9.5" x 3.0"
Shock Hardware:
Front (22mm x 10mm) // Rear (30mm x 10mm)
Stock Components & Frame Settings Out of The Box:
-
Shock:
2010 FOX DHX RC4
-
Stock Spring Rates:
Sm=250#
Med/Lg=300#
XL=350#
- Flip Chips slack, headtube steep // 13.8", 64°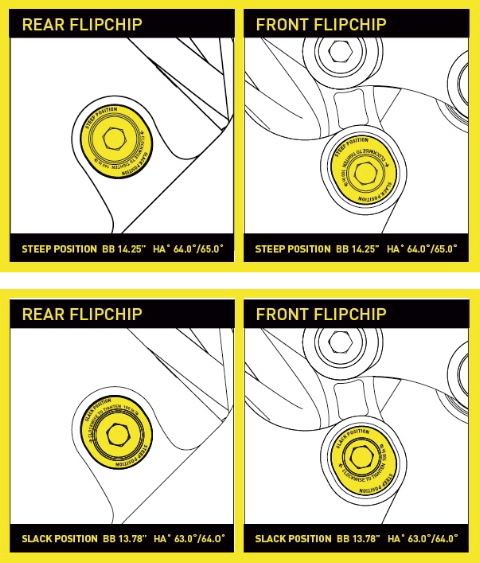 Frame Warranty:
2 Years from the date of purchase.
Features:
DELTA Suspension
Flip Chips
Off Set Shock
Production Geometry and Available Sizes:
*NOTE
: These are the actual production figures for the bikes that are coming off the line.


Shock Options:
(as of 11/20/09)
FOX DHX 5.0
FOX RC4
Elka Stage 5
Cane Creek Double Barrel
Rock Shox Vivid 5.1 & 4.1
Spring Rates AND Shock Tuning:
FOX RC4:
Stock Spring Rates for DHX 5.0 & RC4:
For spring rates, the frames come delivered with:
w/ DHX5.0
(First production run of 50 frames)
Sm=300#
Med=350#
Lg=400#
w/ RC4
Sm=250#
Med/Lg=300#
XL=350#
Fox has recommended running 50# lower spring rates on the RC4 than you would run on the DHX5.0.

FWIW, I am running 400# spring and am approx 200lbs. I am pretty much on money with the sag. Maybe would need a 425# spring but a 450# would be too much.
-ska todd
ROCKSHOX VIVID 5.1:
The Rockshox Vivid 5.1 comes in 3 available tuning configurations from their factory. The "A Tune", "B Tune", and "C Tune".
dw
, designer of the Revolt's suspension says:
The "A Tune" is what I recommend...

-

dw
CCDB:
We have previously passed the leverage and wheel rate info to CC USA for their shock tuning. - ska Todd
…talk directly with Josh Coaplen. He knows what's up, I passed him the curves a while back and he and I have discussed them in person too. I haven't tested a bike with the data acquisition and the CCDB yet, but I'm confident that it can be made to work.

-

dw
ELKA STAGE 5:
Originally Posted by IH8Rice
how does it(Elka Stage 5) feel compared to your Vivid that you had on there? im looking for more options...

Great compression adjustment, that actually works (what i liked about the Vivid). On the Elka it is nice to have both high and low speed compression adjustment though (compared to a DHX 5.0). If you know what you are doing and know how you want your bike to behave it comes in really handy for fine tuning.

All shocks have their pros/cons.... favorite part of this one is that it is super sensitive on the smallest of hits but does not use up too much of its travel and the progressive rebound is spot on. The cons would be that it could take a while to get set up correctly but Pat at Elka knows his stuff and they have a ton of guys testing and giving feedback so he is able to take the guess work out of the fine tuning.

I have no sponsorship obligation with them and could run whatever I want... I have a Fox (DHX 5.0), and a Vivid(5.1) for the Revolt both of which I have ridden extensively, and I had the Vivid 5.1 feeling super nice... but the Elka is staying put as it simply performs better for me.
-Dave Trump (Late Summer/early Fall 2009)
Originally Posted by Jason4
Dave-
I assume it is still intended to be an aftermarket shock and is purchased after the fact and built to order, custom valved for your riding style and weight from a Revolt baseline?...

My shock was built around the Revolt's leverage ratio, and I am not sure how far from that base line things were changed for my weight and compression prefs.

...what I was trying to say is that Elka has all the data they need from the folks at Evil to build you a shock & they have done some testing on the Revolt so it is possible to buy one aftermarket.
-Dave Trump
Frame:
2009
(First Year Production)
Material:
Aluminum (details forthcoming)
Colors:
White (powder coat)
Black (bead blast anodize which give a matte/satin finish)
Frame Decals:
"Voice & Choice"
EVIL Revolts will ship with 7 complete decal kits:
Black
Gold
Silver
Green
Blue
Red
Lavender
*

Notes:
The first production run of 50 frames were powder coat white with gold ano head tube sleeves and shipped with FOX DHX 5.0 shocks. In addition, another batch of 10 or so frames were also shipped with the now standard black ano head tube sleeve, but some were equipped with the 2010 DHX RC4 (or simply the "RC4") and some were equipped with the DHX 5.0. Both batches of frames (gold ano head tube sleeves and black ano head tube sleeves) did not have a continuously straight TT(no brace). :
Production frames succeeding the first 60 had black ano head tube sleeves and came equipped with the 2010 FOX DHX RC4 (or simply the "RC4&#8221
. However these frames featured a continously straight TT (i.e. - they had the seat tube brace):
In 2009 a VERY limited number of frames came in "Gun Metal Grey" ano.
2010
Material:
Aluminum (details forthcoming)
Colors:
White (powder coat)
Black (anodize)
*uncomfirmed as of 11/20/09* Fluorescent Yellow (powder coat)
*new* Gun Metal Grey (bead blast anodize which give a matte/satin finish)
Notes:
TBA
Last edited: