(*A door creaks open... light pours into a pitch-black room... a figure appears in the doorway*)

(*the figure steps in, the door closes then total darkness*)

(*footsteps are heard followed by the sound of a person tripping over a metal bucket then falling down a flight of stairs*)
OW...OW...
sonofa...
...Mother of GOD it's dusty in here.
(*turns on lights*)
Hey everyone!
Jesus - I haven't been here since the summer of 2008? No wonder I can't see the entrance any more - it's covered in ivy... someone really needs to trim these hedges... and the cobwebs.... and what's with all of these empties of PBR?
OK, so either I've been spending too much time alone on the internet, or the jpegs of info I posted here during the last presidency have degraded in quality due to site upgrades...
I will re-post and reorganize the info and try to condense things to make searching more expediant and useful.
For example:
Need a new lower link, or the hardware to mount it?
sha-ZAAM:
http://www.mountainbikecomponents.co.uk/items.asp?CategoryID=387&Name=IRON+HORSE+Linkages+and+spares
Me (S.K.C.) - U.S. Open 2007:
UPDATE: 02/11/08
Linkage Kits AND Vivid Compatible Lower Links are IN:
Pricing for the Vivid Compatible Lower Link and the 08' Linkage Kit are as follows:

08-Sunday Lower Link (Vivid Compatible): $55.00 USD

08 Sunday Linkage Kit (Includes Lower Vivid Link): $275.00 USD

UPDATE 1/25/08

- from now on email Carl E. at Iron Horse for info regarding the linkage:

Any questions give us a call 1(800) 645-5477 or you can email:

CarlE@ironhorsebikes.com

Carl E.

warranty/tech support/CS
How to Check Suspension Sag:
http://www.pushindustries.com/support.php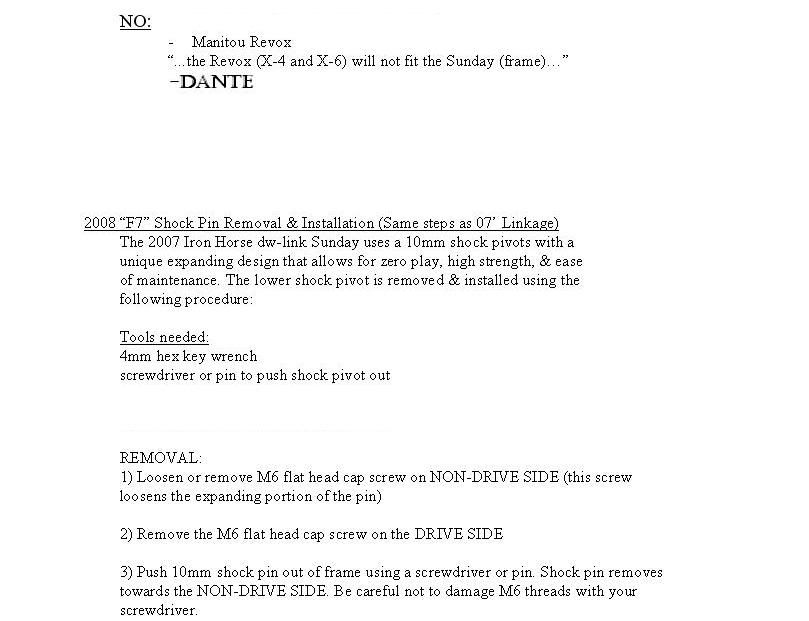 Sunday Measurement Specs (ALL Model Years):
Seat Post Diameter: 30.0mm
B.B. Width: 83mm
Rear Hub Width: 150mm
Rear Axle Diameter: 12mm Proprietary Thru-Axle (comes with each frame)
Head Tube Length: 127mm
Chain Guide Mount: ISCG 05'
Chainline: 57.5mm
2006/ 2007 DW-Link Hardware & Torque Specs:
All measurments in Newton-Meters

*Note:

The

05-06 7POINT

uses different chainstay hardware, so torque spec is 3.7N*M on the

05-06 7POINT

rear chainstay pivot.

-dw (Dave Weagle)
2007 Sunday Schematics Exploded View w/ Part #'s and Torque Values

Thanks to Acadian for file conversion http://i25.photobucket.com/albums/c54/CK_123/2007SundayNEWI.jpg
I.H. Sunday Geo. - all model years
Geometry
Size-HA-SA-EFF TT---CS-----WB----BB
16" 65 64.5 22.5" 17.25" 44.25" 13.9"
17" 65 64.5 23.5" 17.25" 45.25" 13.9"
19" 65 64.5 24.5" 17.25" 46.25" 13.9"

Legend: HA= Head Tube Angle, SA= Seat Tube Angle, EFF TT= Effective Top Tube Length, CS= Chain Stay Length, WB= Wheelbase, BB= Bottom Bracket Height
05'/06' Iron Horse Sunday Frame Descriptions:
The Team & World Cup are identical. Both frames use 6061 alloy & triple butted tubing.

The Factory frame uses 6069 tubing with a different toptube butting profile, down tube butting profile, & chanistay alloy. It weighs slightly less, & is USA made.
-dw
06' Frame Types:
Sunday Factory (frame)
origin = USA
colors = blue, black, yellow, white, red, ano black
shocks = Progressive 5th 5-way coil, Fox DHX 5.0 coil (avail after New Years 06')

Sunday World Cup (complete)
origin = Taiwan
color = Monster Green
shock = Fox DHX 5.0 coil

Sunday Elite (complete)
origin = Taiwan
color = metallic dark grey
shock = Fox DHX 5.0 coil

Sunday Team (complete)
origin = Taiwan
color = sand black
shock = Progressive 5th 3-way coil

-ska todd
07 Frame Types:
Note: 07' World Cup & 07' Factory frames are identical.

All 2007 Frames:

- New forged 7075 links top and bottom.
- Lighter forged uprights
- More chain guide clearance on the uprights.
- Bolt in-main pivots.
- 10mm self aligning shock hardware & a pretty cool way of tightening the lower shock pivot as tight as you want.
- New graphics and stronger paint.
umm I think thats it.
-Dave

Sunday WC (complete)

Origin = U.S.A.

Color = Monster Green

Shock = Fox DHX 5.0

Sunday Team (complete)

Origin = Taiwan

Color = Black Diffusion

Shock = DHX 3.0

Sunday Elite (complete)

Origin = U.S.A.

- frame built here but shipped to Taiwan for assembly as a complete, hence "Taiwan" sticker on BB -

Color = Espresso Brown

Shock = Fox DHX 5.0

Sunday Expert (complete)

Origin = Taiwan

Color = Black Diffusion

Shock = Fox Van R

07' Sunday Factory Frame Info:

Colors: Monster Green, White, Espresso Brown, Pink, Worlds Gold (limited edition)

- Made in U.S.A.

- 0.9 lbs lighter (than 06' Taiwan made frames)

- Totally new 6069 triple butted tubing.
Iron Horse Shock Hardware Info (All Models):
Last edited: