and for those of you interested here is ride #1
http://www.ridemonkey.com/forums/showthread.php?t=130057
any way tonights ride consisted of starting at 5:15 and coming back and picking up the rest of the group at 6:30
so We were going to Start out as Me , Berkshire_rider and My 8 year old son. while we waited for Berkshire rider Peter and I screwed around a little , Here is Peter on the Tetter tootor in our drive way .
Here is me off of a little jump set up in the front yard
Now we are off , Berkshire rider on a Small bridge crossing a dry stream
The Boy riding through some rocks .
the Boy JRA
Berkshire rider hopping a tree.
as we were riding we came up to a rair of riders and the one had a flat and they did not have a spare tube. So I gave them Mine, you know good Karma and all.
we then went back , dropped off teh Boy , and picked up SloMoJo and Ben-O, I put mylight on , filled with water , and got a new tube to replace the one I gave away .
So off we go, Well No Good deed Goes unpunished , Sure enough I get a Flat
well We fixed it and on our way we went.
And found some rocks to play on . here is sloMoJo wheelie dropping a rock , tooo much wheelie he went over and landed on his ass.
Berkshire_rider dropping , after saying he wasn't going to do anything crazy after all he hurt his ribs last week.
Ben-O same one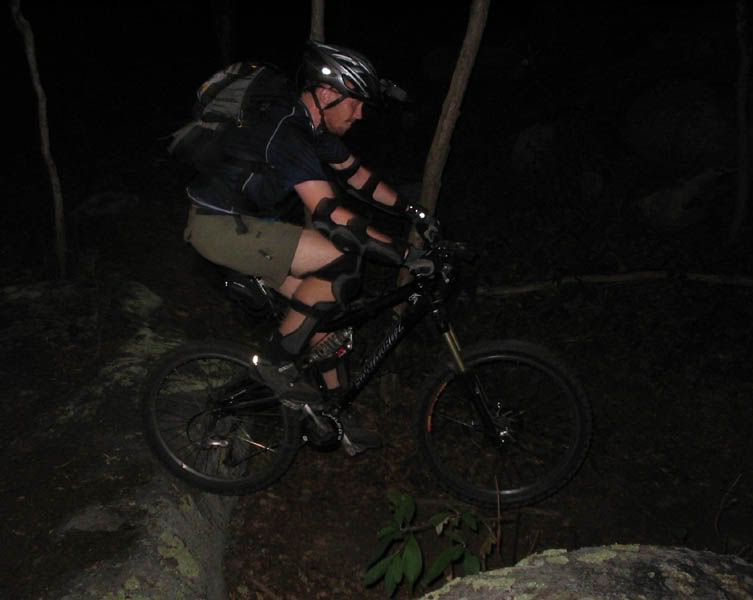 as we rode around hada couple of interesting things
1) we could see Gillette styadium in the distance with all sorts of lights and fireworks for the Patriots game, and we were flying down this trail down hill about to go into a steep technical section when I saw a Skunk going down that same trail!!!! We locked the brakes in a hurry , and choose a differnt trail.
any way Back to the pictures
Berkshire_rider , once again claiming no hucking
an accidental self portrait
Nope Berkshire rider said No hucking for him :dancing:
SloMoJo on the step up
and Finally Berkshire_rider stayed on the ground, hitting the berm
so All told I have about six hours of riding time today !!!