Not the sharpest tool in the shed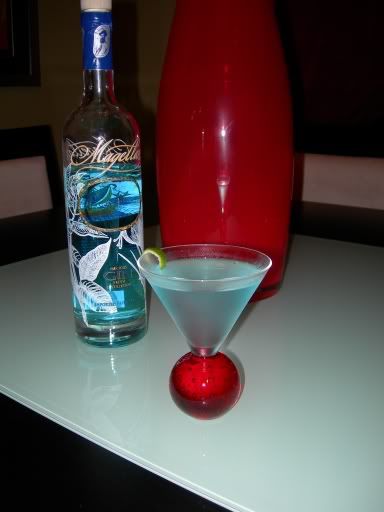 Magellan Gin
I picked up a 750ml bottle for $28 tonite. I love gin martinis (the only 'real' martini for old schoolers). I enjoy Bombay Saphire and Tanqueray No. Ten so when I saw a bottle I'd not seen before at the liquor store I was interested. I love the fact that Magellan Gin is blue... it's as blue as the glass of a Bombay Saphire bottle thanks to the fourth distillation where the gin is infused with the Iris roots and flowers.
I mixed my cocktail in a stainless steel shaker which contained a slow-eight count pour of gin and a half dozen ice cubes. I shake my martinis hard enough to bruise the gin and infuse ice crystals into it.
It was then poured into a nice martini glass which I'd chilled and garnished with a twist of lime peel.
The taste is fantastic. It is quite complex... it isn't as sharp as Bombay Saphire and it doesn't have quite the citrus taste the Tanqueray does. I like the hint of liquorice in the after taste.
If you are a gin fan, I recommend you give Magellan Precious Gin a try.