I figured nobody wants to see another shiny white bike so I'm putting up some pics of my dirty white bike. Just got this baby built last week in time for PA. So far it has treated me well. If you are not interested in the details pics are at the bottom.
So my last build was also a bottlerocket and I had it sprung with air but it did not feel just right (mind you this wasn't crap, was running 08 talas and dhx air 5). However I did like having the adjustability both in travel and feel that air provided in that setup. With this in mind I set out to build the ultimate sensible, do-everything bike. I dare say I have succeeded.
The build:
Frame: Transition Bottlerocket, size large. Sure, its not the lightest out there but it can handle anything, truly versitile and rare. oh wait...
Fork: Rockshox lyric IS u-turn. having really liked my boxxer that I had in 06 i decided to go with rockshox again. In the lyric I've kept the same travel and adjustability I had with the talas, but now its oil/coil plush.
Shock: DHX 5.0. no brainer, most proven, most reliable, amazing ride and adjustability. done deal.
Brakes: Juicy 7. I have had these since fall 06 and they are still going strong. replaced the pad a couple months ago and they feel like new.
Cranks/retention: I kept the hones off of the prior build because they are everything a crankset should be. Strong, cheap, and not super heavy. I went with an 11-32 cassette this time (as opposed to a road cassette on the last one) and a 32 in the front so I can still make it up hills and not have to worry about dropping chains. The lg-1 helps out with that last bit.
Wheels: New transition revo 32's white on red. They look sic, will take a beating, and don't break the bank. who cares how much they weigh? build some muscle.
Tires: Nevegal 2.5 front, specialized enduro 2.4 rear. Best setup I've ever run for all around. I have some other tires I throw on for xc or resort riding, but these are run 95% of the time.
Mech: xt shadow with xt 8-speed shifter. Keep it simple, keep it cheap (seriously, look at the cost difference between 8 and 9 speed stuff), keep it good. the shadow is butta, highly recomend it.
Misc: Funn rippa stem, hussefelt dh bars, thompson elite post, specialized saddle, oury lock on grips, tranny bar ends, welgo mg-1 pedals
and now for the pics: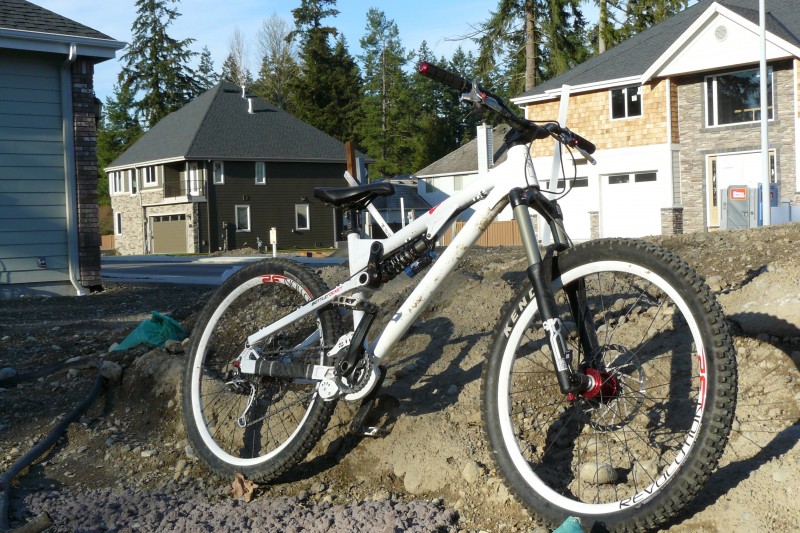 going for the clean look
thought I would do something a little different/more clean with the stickers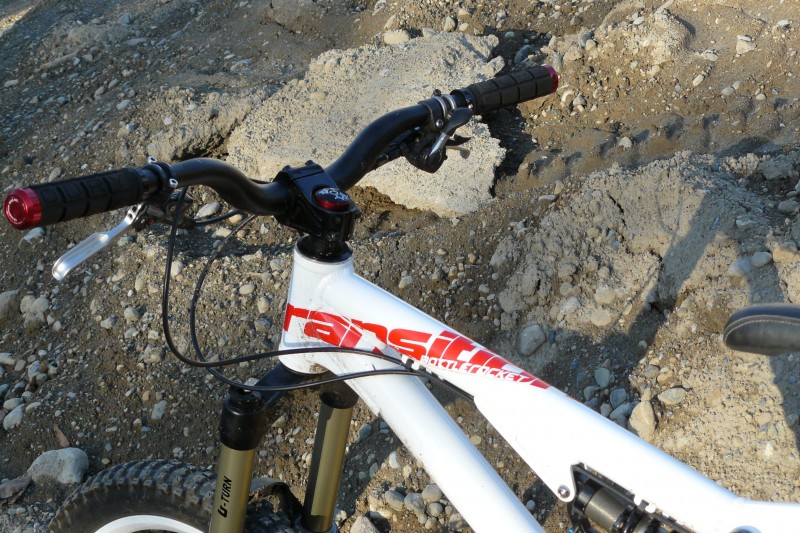 I won't lie, bling is awesome.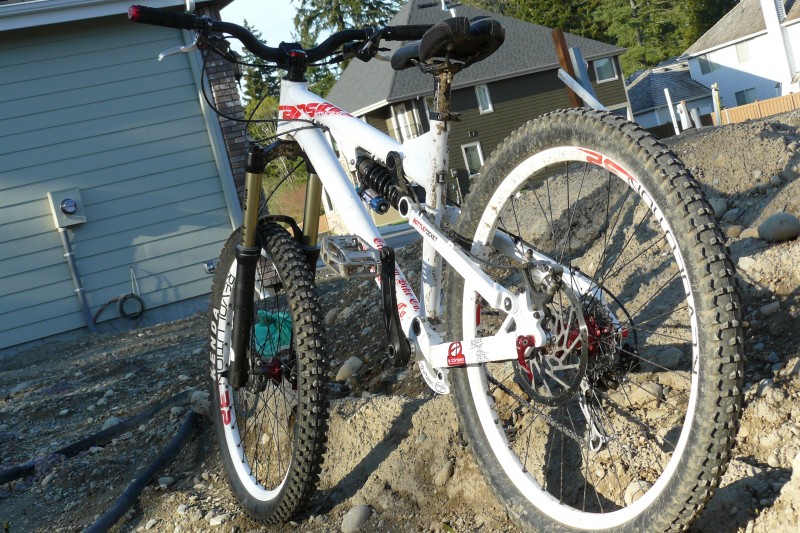 mmmmm, tasty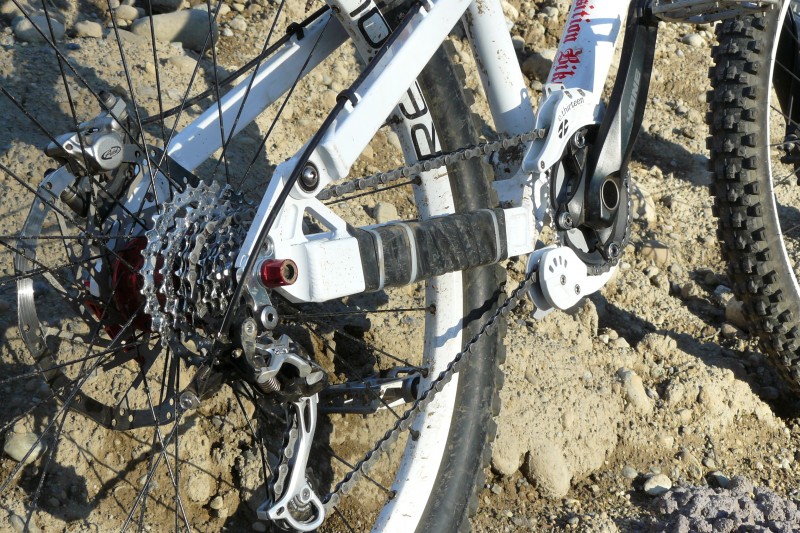 rock solid drivetrain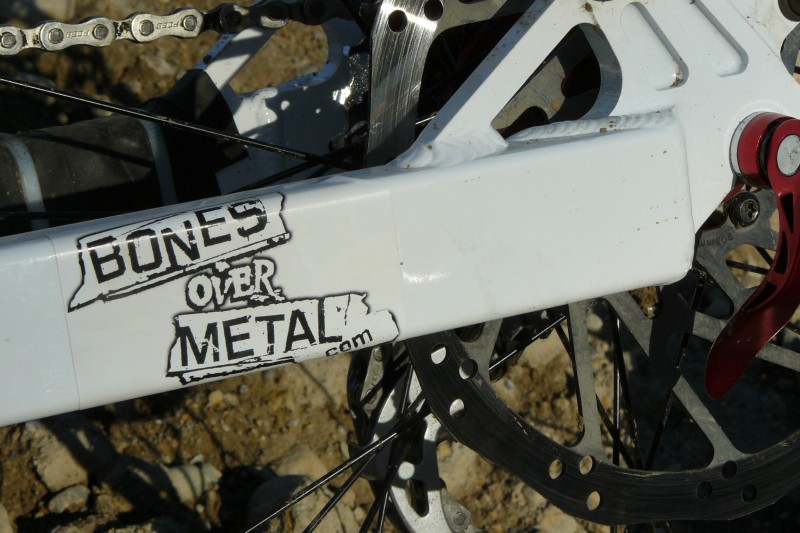 check out the adventures I'll be taking this bad boy on with the GnarlBurl Flavor Tour on bonesovermetal.com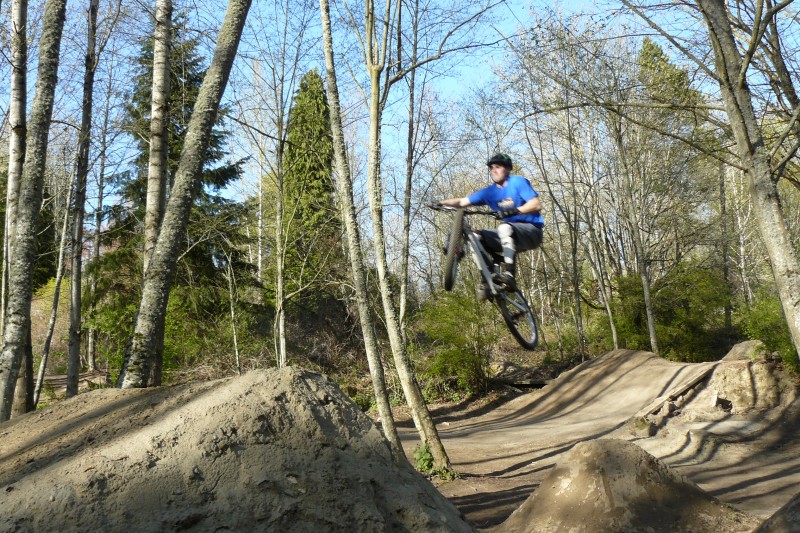 action pic # 1
action pic # 2
the complete stable